April 17, 2014
Working conditions have changed and the computer age has left many of us sitting behind desks. While these conditions are not the most dangerous, they can still wreak havoc on our bodies, including our backs, necks, and hands. Individuals who suffer from repetitive stress injuries may be entitled to workers 'compensation benefits.
Are you suffering from common office back pain or repetitive stress injury? Our Boston workers' compensation attorneys are dedicated to raising awareness to prevent injuries and helping workers recover compensation for lost wages, medical expenses, and other losses.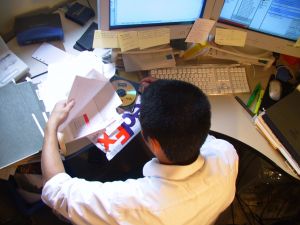 Back pain in the workplace is common. What can you do about back pain and when can you take legal action for your repetitive stress injuries? Desk life can cause permanent damage to your back and make it more difficult for you to recover from injuries. Back pain is a common problem that can result in long-term and permanent injury. When your condition has worsened to a degree that renders you unable to work or forces you to miss work, you may be entitled to benefits.
Continue reading "Common Office Back Pain or Repetitive Stress Injury?" »