On June 10, 2015, an ironworker was helping to build a new parking structure at Boston Logan International Airport when he was involved in a serious on-the-job accident. Authorities say victim was on the third level of the parking garage under construction and was helping to secure a massive concrete platform to the structure.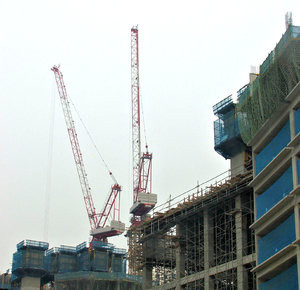 While he was attempting to secure the concrete platform, it broke free from the crane that was suspending it, and the platform and the workers fell approximately 40 feet to the ground. In addition to serious impact from his fall, the worker was left trapped between the platform and an exterior wall of the garage.
First responders were called to the scene and were able to get him out of the wreckage and assess his condition. They determined worker had suffered a serious injury, and he was rushed to Massachusetts General Hospital (MGH), where he was immediately taken into emergency surgery to control bleeding and stabilize his condition. The worker's friends and family gathered at the hospital and hoped he would come through surgery and start his long journey to a full recovery. At that time, it was unknown whether he would survive surgery, and, if he did, whether his injuries would be permanent.
While the 53-year-old worker did make it through surgery, his workplace injuries eventually proved too severe for the doctors to save his life, and he died less than two weeks after his serious fall accident, as reported by the Boston Globe.
First, our Boston workers' compensation attorneys would like to take this opportunity to express our deepest condolences to the family and friends of the victim of this tragic incident. This accident is being investigated by the United States Occupational Safety and Health Administration (OSHA) and the District Attorney's Office for Suffolk County. It is important to note that there have been no reported findings that this was anything other than a tragic accident; but, it is agency policy to investigate any serious or fatal workplace accidents or work-related illness reports.
When a worker is killed on the job in the Commonwealth of Massachusetts, the Workers' Compensation Act (WCA) provides a mechanism by which his or her family can financially recover from employer or, more likely, from employer's workers' compensation insurance company. In a case involving a fatal work accident, the law provides for benefits to compensate a family for past medical bills associated with final illness. For example, if a worker is injured on the job and spends the next several weeks in the hospital, he or she has likely generated very large hospital bills. If all of the treatments and hospital stay fees were not covered by health insurance, the patient may owe over a hundred thousand dollars.
In addition to past medical expenses, the employee's surviving spouse or children can also file a claim for lost wages for the money employee would have earned had it not been for his or her tragic work accident, as well as compensation for funeral expenses.
If you or someone you love has been injured in a Boston work accident, call for a free and confidential appointment at (617) 777-7777.
Additional Resources:
CT construction worker injured at Boston airport dies, July 27, 2015, Boston Globe
More Blog Entries:
Elevator Mechanic Killed when Falling Down Shaft, Jan. 24, 2015, Boston Workers' Compensation Lawyer Blog