This time of year, families across the country are driving out to the country to go to county fairs, pumpkin patches, and apple festivals. While these events and festivals can be a lot of fun for the entire family, for workers it often means long hours and sometimes even dangerous conditions.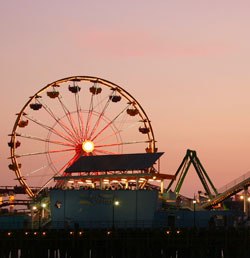 According to a recent news article from NBC, a worker at a state fair was working in the midway running an attraction when a nearby carnival ride malfunctioned. The ride was called the Crazy Mouse, and it was spinning carnival riders around when a piece of the ride broke off and went flying toward the state fair mainstay. Witnesses say the piece of the ride hit the worker in the midway and caused a serious, but non-life threatening injury. The worker was taken to a local hospital, so he could be treated for his injury.
There are several reasons workers' compensation cases are different than traditional personal injury cases. The first and major way in which workers' compensation cases are different than personal injury cases is that there is no need to establish fault. It does not matter whether the employer was negligent in causing the accident.
The reason for this is because the workers' compensation system was set up as a compromise between needs of injured employees and their families and the needs of employers to have predictability when managing their businesses.   The benefit to the employee is that the process should take much less time to complete from the time an accident occurs to the time benefits are paid.
In a personal injury case, it would be necessary to prove negligence, file a claim, and wait for the defendant's insurance company to make an offer to settle the claim. If a reasonable settlement offer is not made, the case may need to go to trial, and this could take a considerable about amount of time for the plaintiff to achieve a full and appropriate financial recovery. However, in a personal injury case, the plaintiff can file for damages for pain and suffering. Past and future medical bills, lost wages, special damages, and, in some cases, punitive damages when the defendant engages in conduct so extreme that it goes beyond mere negligence and demonstrates a willful and wanton disregard for the safety of others.
On the other hand, in a workers' compensation case, damages (financial recovery) are normally limited to past and future medical expenses and lost wages. There is no ability to claim workers' compensation for pain and suffering or other types of special damages. However, in the Commonwealth of Massachusetts, your Boston workers' compensation attorney can discuss the possibility of filing for certain types of additional compensation in serious cases of workplace injury or illness. For example, in cases where victims suffer scarring on the hands, face or neck, workers can apply for one-time payments of benefits above and beyond the standard workers' compensation damages. There is also a special claim that can be filed if a worker requires an amputation following a serious accident.
If you are injured on the job in Massachusetts, call Jeffrey Glassman Injury Lawyers for a free and confidential consultation to discuss your workers' compensation claim: (617) 777-7777.
Midway Worker Injured By Ride at State Fair of Texas, October 4, 2015, News 5 NBC News, by Holley Ford
More Blog Entries:
OSHA Fines Welding Company in Connection with Deadly Boston Fire, October 15, 2014, Boston Workers' Compensation Lawyers Blog