According to a recent news report form 7 News Boston, three construction workers were injured in an accident in Lowell, Massachusetts, just north of Boston. Lowell Police are reporting that three workers had dug a trench in the road to install a new natural gas line when a 76-year-old woman approached the construction site in her Mazda at high speed.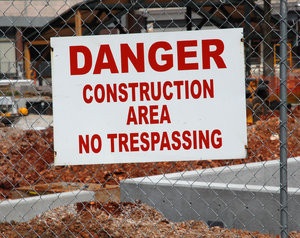 After she allegedly failed to slow down or move out of the way the of the active construction site, she swerved to get around slower moving traffic and crashed into a Bobcat (small bulldozer) alongside the trench. This caused the Bobcat to spin around, throwing one construction worker high in the air. He suffered a large gash on his head. The Bobcat driver and another construction worker were injured when they tried to jump clear of the spinning piece of construction equipment.
At this point, first responders were called to the scene and provided medical attention to everyone involved. This included three construction workers, the driver, and her 84-year-old husband, who was a passenger in the car at the time of this serious workplace accident in Lowell, Massachusetts.
The construction worker who suffered the head injury was rushed to a local trauma center, where he is listed as being in serious but stable condition. The other two construction workers were not as seriously injured and are said to be recovering from their workplace accident.
As for driver of the Mazda and her husband, they were both taken to the hospital, but authorities say she ultimately refused medical attention.   Lowell Police have said the woman's alleged maneuvers to avoid slower traffic, the fact she was headed in the wrong direction on Appleton Street when she hit the Bobcat, and the fact that she was speeding were all partially to blame.
Police also say that they are considering this woman to be an "imminent threat," and this will start the process for the Registry of Motor Vehicles (RMV) to revoke her license. They are allowed to do this administratively if they feel a person is a danger to other drivers and pedestrians on the streets and sidewalks of the Commonwealth, but she would be entitled to a hearing to defend the allegations against her and attempt to keep her driver's license. Police have also said they are still conducting an investigation into the cause of this accident and have not decided if they will be filing criminal charges. It should be noted, she has not been charged with any crime as of the time of this article.
It should also be noted, the United States Occupational Safety and Health Administration (OSHA) will be conducting a full investigation into the cause of the accident. While it seems the third party driver may be responsible, there may have been a better way for the construction company to prevent this type of accident. That will be determined during the investigation in this Boston area on-the-job injury case.
What makes a case like this different than normal workers' compensation cases is that, if the accident is caused by a third party defendant, the injured employee may be able to file for workers' compensation and file a lawsuit against the third party.
If you are injured on the job in Massachusetts, call Jeffrey Glassman Injury Lawyers for a free and confidential consultation to discuss your workers' compensation claim: (617) 777-7777.
Additional Resources:
Three workers injured in Lowell crash, November 17, 2015, WHDH, by Jonathan Hall
More Blog Entries:
OSHA Fines Welding Company in Connection with Deadly Boston Fire, October 15, 2014, Boston Workers' Compensation Lawyers Blog