According to a recent news release from NECN, an employee was critically injured while at work in Lowell.  Authorities say the 52-year-old worker suffered a traumatic brain injury in what is being called a tragic on-the-job accident.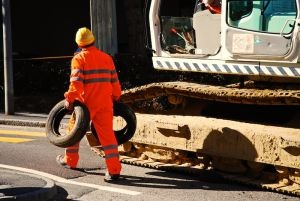 Witnesses have said worker was assisting other employees to unload a flatbed truck that was loaded with huge panels of glass.  As they were removing the panels from the flatbed truck, one of these giant sheets of glass started to fall from the truck.  Workers yelled for victim to get out of way, but there was not time for him to react, and the giant piece of glass came crashing down on his head and other parts of his body. 
When first responders arrived, they immediately realized the severity of his injuries and requested a medic helicopter.  Medevac helicopters can land on hospital roofs and sometimes parking structures to get patients into the emergency room much faster than a traditional ambulance.  They are also designed so flight medics can work to stabilize a patient while in flight. While they may land and even refuel at a hospital, they are typically based at a private portion of a local airfield and await being called to the scene of serious accidents.
In this case, when responding paramedics requested the airlift, they were informed that due to severe weather and an extremely low flight ceiling, all flights were grounded.  With no other choice, the first responders put this extremely critically injured worker in an ambulance and drove him to the nearest level-one trauma center.  While there has been no report of his condition as of this time, first responders did say that it was apparent he had suffered a head wound and was experiencing symptoms consistent with a traumatic brain injury.
A traumatic brain injury (TBI), as one could imagine from the name, is among the most serious types on injuries an employee can sustain.  In terms of a Lowell workers' compensation case, it could result in substantial future medical expenses including the cost of going to occupational therapy and rehabilitation.  While it is important to make sure an injured employee is compensated for past medical expenses, future medical expenses, and future treatment and therapy, this may be even more important in an accident involving a traumatic brain injury.
When a worker suffers a traumatic brain injury, depending on the extent of the damage, there may be permanent injury of varying degrees of severity.  In some of the more serious cases, an injured worker may have to relearn all daily activities we take for granted, like eating and talking, or even walking.  There are also cases where full time healthcare workers are needed to help the injured worker during his or her recovery, which can take years.
While it would be nice if all employers would simply approve all valid claims for workers' compensation and pay benefits, this doesn't always happen.  In many cases, an employer or its workers' compensation insurance carrier will wrongfully deny claims, and you have to work with an experienced workers' compensation attorney to get you the results you deserve.
If you or someone you love has been injured in a Boston work accident, call for a free and confidential appointment at (617) 777-7777.
Additional Resources:
Man Critically Injured in Workplace Accident in Lowell, Massachusetts, February 28, 2016, NECN, By Allison Freedman
More Blog Entries:
Increased Fines for Employers Who Do Not Maintain Workers' Compensation Coverage, July 22, 2011