While construction work has gotten a great deal safer than it once was, ironwork is still one of the most dangerous jobs in America. The job involves constantly working at dangerous heights with little protection, and also working around thousands of pounds of iron and steal that may collapse or shift at any moment in the event of an accident.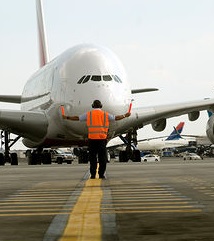 According to a recent article from The Boston Globe, an ironworker was injured on the job at Logan Internal Airport in East Boston. Authorities say the 53-year-old worker suffered a critical injury when he was trying to secure a concrete panel weighing over 30 tons. A crane was suspending the heavy concrete panel at a height of around 40 feet off the ground. It was being lifted to the third floor of a parking garage being constructed at the airport.
When the panel gave way, he fell 40 feet to the ground. Emergency personnel already stationed at the airport were called to the scene of the on-the-job accident, and they assessed worker's condition and transported him to Massachusetts General Hospital (MGH). MGH is a large hospital and level-one trauma center in downtown Boston near the Charles River.
All work on the parking garage was immediately suspended following the accident. As our Boston workers' compensation attorneys can explain, this is common practice for a job site to be shut down following a fatal or serious injury requiring extended hospitalization. The United States Occupational Safety and Health Administration (OSHA) requires the site be shut down, so they can conduct a full investigation into the cause of the accident. If it is determined it was truly an accident, and there was no violation of any local or federal rule or regulation involving worker safety, OSHA will simply note the cause of the accident. They may determine there is a way to make this accident less likely in the future, and that information can be the basis for future rules and regulations, but they will take no action against the employer.
On the other hand, if OSHA determines there was some negligence or rule violation on behalf of employer, they may issue warnings or possibly fines against the party deemed responsible. It should be noted, in the case of the Boston Logan International Airport accident, OSHA is still conducting an investigation and has not released any findings or assignment of responsibility, as the investigation is still ongoing.
The injured worker was immediately taken into surgery following his arrival at MGH, and there was not any update on his condition, but we do know he was listed as being in critical condition with life threatening injuries.   His friends, family members and coworkers were standing by at the hospital, waiting to see if he was going make it through surgery and if he would have a permanent injury as a result of this serious Boston work-related accident.
Witnesses say, when this block fell, in addition to causing the injured worker to fall, it did a substantial amount of damage to some of the structure below, and this would need to be repaired. It was lucky nobody was else was injured with the large amount of falling debris.
If you are injured on the job in Massachusetts, call Jeffrey Glassman Injury Lawyers for a free and confidential consultation to discuss your workers' compensation claim: (617) 777-7777.
Additional Resources:
Ironworker hurt after falling some 40 feet at Logan, July 10, 2015, Boston Globe
More Blog Entries:
LeFiell Mfg. v. Super. Ct.: Workers' Compensation Exclusivity and Rare Exception, August 18, 2014, Boston Workers' Compensation Lawyers Blog