Most people are probably unaware that new airplanes contain airbags to protect passengers in the event of a crash. Normally, people are told to place their heads forward and brace for impact. These days, airplanes are being equipped with added safety equipment to increase the survival rates in the event of an emergency (crash) landing.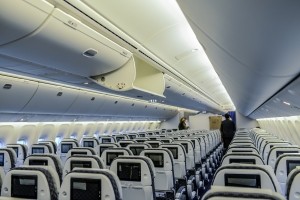 According to a recent news article from KiroTv, the family of a worker is suing the aircraft maker and one its suppliers after their loved one was killed on the job at the airplane factory. Plaintiff's complaint alleges employee was working for a contractor, which handles seat belt and airbag installment in the aircraft manufactured by Boeing.
As part of a pre-delivery inspection of the 777 with the buyer and manufacturer, the buyer noticed there was some problem with one of the airbag systems in a business class seat. Apparently, the airbag had discharged by itself and needed to be inspected and reset, and reloaded with a new airbag. The employee was called into the factory to work on resetting the airbag when the discharge mechanism caused an explosive inflation of the new airbag, which resulted in a serious head injury to the worker.   Following the accident, he was treated by emergency personnel and taken to a local level-one trauma center for emergency surgery, but doctors were unable to save him, and he soon died from his massive head injuries.
As one of the claims in plaintiff's complaint alleges, neither defendant performed an inspection to find out why it discharged on its own prior to sending in decedent to replace the airbag. Plaintiffs allege if they had performed such an inspection, they would have determined there was a problem with the firing mechanism before employee reloaded the airbag system. Had this occurred, plaintiffs contend the accident would not have occurred.
Following the accident, a full investigation was performed as required by law. While defendant said it could not comment on the pending lawsuit, they said they believed the defect was not related to the discharge mechanism that would operate in the case of an actual accident, but rather it had to do with the discharge mechanism in its partially deconstructed state at the time of the accident. In other words, they do not want airline customers to be worried this could happen to them.
As our Boston workers compensation attorneys can explain, in normal circumstances, if an employee is eligible to recover under a workers' compensation policy, he or she is not eligible to file a civil personal injury lawsuit. It does not matter whether employee actually filed a claim for workers' compensation, but whether he or she was eligible. This means an employee injured on the job cannot elect not to file for workers' compensation and then proceed with a civil lawsuit instead.
However, in certain cases, an employee can file a claim for workers' compensation and also a civil lawsuit for personal injury or wrongful death. The most common way in which an injured employee can file a civil lawsuit is if a third party was at least partially responsible for the injury. This means he or she can collect workers' compensation from his employer and also file a civil negligence lawsuit.
If you or someone you love has been injured a Boston work accident, call for a free and confidential appointment at (617) 777-7777.
Additional Resources:
Worker's family sues Boeing and supplier over fatal injury, July 1, 2015, Kirotv
More Blog Entries:
City of Danville v. Tate: Workers' Compensation Double Recovery, Jan. 25, 2015, Boston Workers' Compensation Lawyer Blog