Working on a construction site is one of the most dangerous jobs in America. Construction workers are constantly working around heavy machinery. There are often heavy loads suspended from cranes well over the heads of construction workers, and these workers are frequently required to climb to dangerously high levels and use power tools, which can also be extremely dangerous, should there be an on-the-job accident.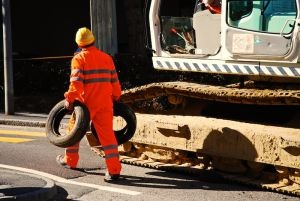 According to a recent news article from WPRI, a construction accident in Taunton, Massachusetts resulted in the death of a worker. This is the second fatal accident involving a construction site in that city in the past month. In the first fatal construction accident, a worker was killed when a lift fell over onto him during construction of a new school.
In this most recent incident, witnesses say the construction worker was working an early morning shift when his job responsibilities required him to climb around 40 feet off the ground to work on part of the new structure's frame. This building is going to be a beverage processing plant when it is completed. When he was working on the higher-level frame, he fell off for a reason not entirely clear and was killed as a result of the injuries he sustained during the on-the-job accident in Massachusetts.
When he was on the ground, he was still alive, and others at the site immediately called 911. First responders arrived at the scene and attempted to provide medical attention, but there was nothing they could do to save him, and he soon died from his injuries. He was pronounced dead on the scene.   The victim was 24 years old at the time of his death.
The construction company hired to do the job said this worker was an employee of one of their subcontractors, so they did not know him too well. There were 50 other workers on the scene at the time this worker tragically fell to his death.   Following the fatal on-the-job accident, all construction was suspended, so authorities and the United States Occupational Safety and Health Administration could conduct an investigation.
As our Boston workers' compensation attorneys can explain, OSHA is required to be called in to conduct an accident following a fatal industrial accident.   If the agency determines there were violations pertaining to any required safety protocols, such as a worker not wearing a harness when required, the agency can issue fines when appropriate.
On the other hand, if there were no violations of any current safety protocols or regulations, but the agency determines this type of accident could be prevented in the future if things were done differently, the agency can recommend new regulations be added to the current protocols to make the job safer for future employees. It should be noted, in this case, there has been no finding as of this time that employer violated any safety regulations, though the investigation is just beginning.
It is important to note that in cases where a worker dies on the job, his or her next of kin can file a claim for workers' compensation benefits requesting an award of death benefits.
If you or someone you love has been injured in a Boston work accident, call for a free and confidential appointment at (617) 777-7777.
Additional Resources:
Pawtucket man killed in Taunton construction accident, September 4, 2015, 12 WPRI, by Shuan Towne
More Blog Entries:
Increased Fines for Employers Who Do Not Maintain Workers' Compensation Coverage, July 22, 2014