According to a recent news article from 12 WSFA, three workers were drilling a water well when they accidentally hit a pocket of natural gas that resulted in a major explosion.  This was a pocket of naturally occurring methane gas that was trapped underground until it was violently released by the workers' drilling equipment.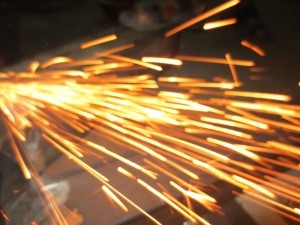 Authorities say the freed methane gas became ignited under pressure, and that resulted in a large explosion.  The three workers were burned in the accident.  When paramedics arrived on the scene, they treated the workers' burn injuries at the site of the explosion and then transported them to a local level-one trauma center for further care and treatment.  Meanwhile, the fire department and local police evacuated all houses within a mile of the blast and monitored the fire as it eventually ran out of fuel and went out.  At first, they considered bringing in dump trucks for hauling off dirt and mud in what would have been an attempt to smother the flames and cap off the newly drilled hole, but they decided that putting the flaming methane gas back under pressure might result in another explosion.  For this reason, they decided it would be safer to simply let the gas burn until it was gone.  This occurred without any further incidents.
Burn injuries can be among the most serious types of on-the-job injuries.  While they can be deadly in some cases, even when workers are able to survive, they can result in serious damage to skin, muscles, and even bone if they are fourth degree burns. It should be noted that while most people think a third degree burn is the most severe type of burn, there is actually a fourth degree that results in full thickness damage where the bone itself is destroyed.
If you or a loved one has suffered from a burn injury at work, you should speak with an experienced Boston workers' compensation attorney as soon as possible.  In cases where you have been burned and have scars on your face, head, neck, or hands, you may be entitled to additional workers' compensation benefits beyond those paid for lost wages and past and future medical expenses.  In these types of cases where there is scarring to the areas of the body just discussed, the Massachusetts Workers' Compensation Act proves for the one-time payment of additional benefits as calculated based upon a percentage of the state average weekly wage (SAWW).
This is not the only situation where the Workers' Compensation Act provides the payment of additional benefits.  Other cases where this can occur involve industrial accidents or on-the-job injuries in which the victim sufferers a complete or partial amputation of an arm, leg, hand, or foot.  It should be noted that there is a larger award of benefits if the injury is to a dominant arm or hand as opposed to the non-dominant hand or arm.  In other words, for most workers who are right handed, an amputation to the hand or arm will result in larger award of benefits than an injury to the left hand.
If you or someone you love has been injured a Boston work accident, call for a free and confidential appointment at (617) 777-7777.
Additional Resources:
Overnight fire, 3 workers injured in natural gas explosion in Franklin County, Jan. 20, 2017, By Laruen Scharf, Amanda Jarrett, and Jake Berent, 12 WFSA
More Blog Entries:
Parr v. Breeden – Supervisor Co-Workers Not Liable Under Workers' Comp Exclusive Remedy, July 3, 2016, Boston Work Accident Lawyer Blog