According to a recent news article from Wicked Local Weymouth, a worker in Weymouth was seriously injured in a work accident that occurred when the scaffolding on which he was standing collapsed.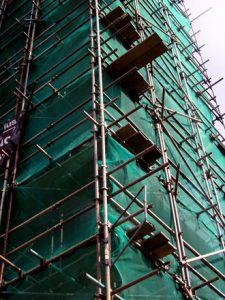 Authorities say the injured worker was installing vinyl siding on a home in the town just south of Boston when the accident occurred. He was working on scaffolding that had been erected for the purpose of doing this siding project when something went wrong. This type of scaffolding was built using wooden boards that were held in place by a device known as a pump jack.
For reasons that are not entirely clear, this pump jack failed to work properly, and the board on which the worker was standing gave way and fell about two stories to the ground.  The worker fell to the ground as well and was severely injured. As soon as he fell, coworkers called 911, and first responders were summoned to the scene of the on-the-job accident.
Paramedics were able to stabilize him for transport and rushed him to a local level-one trauma center in the South Shore area. The full extent and nature of his injuries were not released by the hospital.  The United States Occupational Safety and Health Administration (OSHA) was on the scene in less than an hour to begin their investigation.  This does not mean that the employer did anything wrong, as it is the agency's standard operating procedure to investigate any serious construction or industrial accidents, especially those involving a serious head injury or a fatal workplace accident.
However, as our Boston work injury lawyers can explain, in the Commonwealth of Massachusetts, it is not necessary to prove any fault on behalf of any employer to collect workers' compensation benefits.  All that is required is to establish that you are an employee within the meaning of the Workers' Compensation Act (WCA) and that you were injured on the job or are suffering for a work-related illness that will keep you out of work for at least five days.
There are variety of reasons for this, but it is essentially that workers' compensation in Boston and the rest of Massachusetts was set up to be a compromise between the needs of an injured worker to get access to workers' compensation benefits and the needs to businesses to be able to budget their expenses and not be in constant fear of lawsuits for injured employees. However, it should be noted that while it is not necessary to prove fault, there is also no advantage if you are to show fault on behalf of the employer. This is because in the vast majority on workplace accidents, if the injured worker is eligible to receive workers' compensation benefits, he or she is not able to file a civil personal injury lawsuit.
While this is the advantage to the employer, it is also the employee's advantage that he or she will be able to obtain benefits in a much quicker manner than would be the case if a civil personal injury lawsuit was required.
If you or someone you love has been injured a Boston work accident, call for a free and confidential appointment at (617) 777-7777.
Additional Resources:
Worker injured in scaffold collapse at Weymouth home, Jan. 27, 2017, By Lane Lambert, Wicked Local
More Blog Entries:
Parr v. Breeden – Supervisor Co-Workers Not Liable Under Workers' Comp Exclusive Remedy, July 3, 2016, Boston Work Accident Lawyer Blog