It wasn't long ago that a worker in Leominster, about an hour west of Boston, lost his life in a tree-trimming accident after he reportedly fell out of a tree bucket.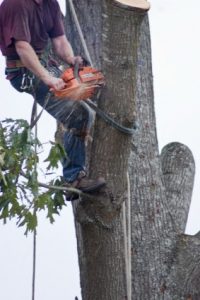 According to news reports quoting police and fire investigators, the landscaping worker was employed by an out-of-town tree service that had been called in by the property owner, who called the company because he had a tree in danger of falling. He needed it to be taken down by professionals. Authorities said the worker had stripped the tree of all its branches and was cutting off the top of the tree when he fell some 50 feet to the ground. He suffered severe traumatic injuries and was transported to a local hospital, where he was pronounced dead.
It's the kind of incident about which the Occupational Safety & Health Administration (OSHA) warns in its public safety guidelines on the tree care industry. The OSHA Hazard Bulletin on Tree Care Work details the many serious hazards in tree care work. Chief among those: Falls and falling objects.
An example given of a fatal falling object incident in tree care was: A tree care worker dragging around trimmed branches into a mobile wood chipper while a second worker, a trimmer, operates a mobile bucket truck. The trimmer was piecing out a large maple tree when the limb he was cutting fell and struck the tree care worker in the head, killing him instantly. An investigation determined the ground workers shouldn't have been in the tree trimmer's "drop zone" while work was being performed overhead.
In another example, given to illustrate fall-related hazards of tree care industry workers: A worker climbed a large tree to remove the top of it, cut one section off and that piece fell in half. The rope the worker was using snapped in half, causing the worker and the entire tree to fall some 65 feet to the ground, killing the worker. OSHA concluded the incident could have been avoided had the worker conducted a thorough preliminary examination, he would have seen the tree couldn't support the rigging and roping.
In preventing tree care work accidents and the need for workers' compensation claims in Boston, OSHA recommends:
Check the work site for any fall and falling object dangers, such as slopped ground, nearby overhead structures or objects and weather-related perils.
Make sure a qualified arborist looks at the work area to identify the kinds of trees involved and any dangers related to the tree structure itself.
Figure out whether it's necessary to do rigging and if so, make sure that workers can do it safely.
Ascertain whether workers will need to use an aerial lift or if they can climb. There are a host of considerations that need to be made for either option, including worker training and availability of proper equipment.
Give workers properly-fitted protective equipment at no cost to them.
Use only climbing equipment that is approved specifically for work in the tree care industry.
Keep workers at least 10 feet away from electrical lines, or else de-energize the lines.
Determine and mark drop zones.
Work out a communication system between workers overhead and workers on the ground.
Establish traffic control around the job site before work starts.
Have emergency procedures in place before the work starts.
All workers have a right to a safe working environment that isn't going to put them at high risk for serious injury or illness. The law requires this, and employers can be fined by the government for failing to do so – even if a worker isn't actually injured.
When workers are injured, they may have a number of options for recovering compensation for medical bills, lost wages and pain-and-suffering. One option may be workers' compensation. We can help you map out all your options.
If you or someone you love has been injured a Boston work accident, call for a free and confidential appointment at (617) 777-7777.
Additional Resources:
Worker dies after falling out of tree bucket in Leominster, April 7, 2016, By Susan Tran, News 7 Boston
More Blog Entries:
Report: Worker Injured in Serious Fall on Boston Area Jobsite, July 8, 2016, Boston Workers' Compensation