According to a recent news feature from CBS Boston, a construction worker was severely injured when he got his foot trapped in a cement mixer in Newton, Massachusetts.  Co-workers say that the injured employee was working around the machine when he slipped and his leg got trapped.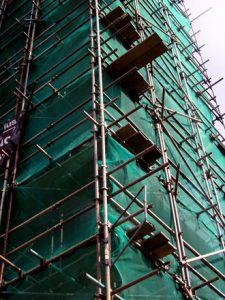 This was not a cement truck, but a smaller cement mixing machine that features a large screw or auger inside to mix the cement.  It was this auger that trapped his leg and was crushing it when another worker heard the screams and shut down the machine. 
First responders were immediately called to the scene, but realized that in addition having his leg crushed by the machine, it was also pinning him in the mechanism, and they could not get him free quickly.  They needed to carefully cut away the cement mixer and remove his leg from the machine.  This was a very precarious situation, because they needed to work quickly to free him, as he was in need of medical attention and likely surgery; however, they also had to be careful so as not to cause any more damage when cutting the machine away from his leg.
After about two hours of carefully cutting the cement mixer in half, they were able to get the injured worker out of the large piece of construction equipment.  His leg was severely injured, and he was rushed to a local level-one trauma center where he was taken for emergency surgery.  His condition is not known, and it is not known if doctors were able to save the worker's leg.
As is often the case in machine accidents, workers can suffer from the amputation of fingers, hands, feet, or even an entire leg.  In Massachusetts, pursuant to the workers' compensation code, injured workers are often entitled to special compensation for the amputation of an arm, leg, hand, or foot.  This money is to paid in addition to any compensation that is normally awarded as a part of a worker's monthly workers' compensation benefits and is generally paid in a single lump sum payment.
While you should speak with an experienced Boston workers' compensation attorney about the facts of your particular case, the amount to be paid in special damages for an amputation is set by statute.  Officially, these are called Permanent Loss of Function and Scarring and Disfigurement Benefits and are governed by Chapter 152, Section 136 of the Massachusetts General Laws.   These special compensation awards are also available for permanent scarring to the hands, neck, or face, or the loss of vision or loss of an eye, as well as loss of hearing.
There is actually a formula to calculate what the compensation should be.  For example, if you lost hearing in one hear, you would be entitled to state average weekly wage (SAWW) multiplied by 29.  If a worker lost hearing in both ears and was completely deaf, he or she would be entitled to the SAWW times 77.  There is a formally for the total and partial amputation of limbs as well.
If you or someone you love has been injured a Boston work accident, call for a free and confidential appointment at (617) 777-7777.
Additional Resources:
Newton Firefighters Rescue Worker Stuck In Cement Mixer, August 4, 2016, CBS Boston
More Blog Entries:
OSHA: New Rule to Protect Workers From Silica Exposure, July 18, 2016, Boston Workers' Compensation Lawyer Blog