For any workers who regularly toil on top of buildings, a fall injury is a significant risk that could result in serious injury or death.  According to a recent news article from the Patriot Ledger, a heating, ventilation and air conditioning (HVAC) worker was killed when he fell off a building on which he was working in Worcester, Massachusetts.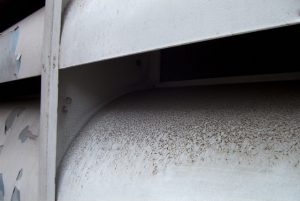 The employee, who was 54 years-old at the time of this death, was working on the roof of a shopping center building that was approximately 35 feet in height. The accident occurred early in the morning, soon after he had started his shift.
After he fell off the roof, witnesses quickly called 911, and first responders arrived on the scene of what turned out to be a fatal workplace accident.  When they arrived, they found another HVAC employee performing CPR on the victim. He was not responsive at that time. At this point, paramedics took over and continued to perform CPR and transported him to a local level-one trauma center. Unfortunately, there was nothing doctors could do for him, and he was pronounced dead upon arrival at the hospital.
At this time of the deadly fall accident, he was holding a heavy heat exchanger, and this caused him to lose balance and fall off the roughly four-story building.  As with any deadly industrial or workplace accident, the United States Occupational Safety and Health Administration (OSHA) is conducting a full investigation into the cause of death.  The agency will determine if any worker safety violations occurred and if they were responsible for the worker's death. However, it should be noted that there is no indication at this time that any violations occurred, and the agency is conducting an investigation as a matter of policy and will ultimately make a report of its findings.
One thing that the families of workers who are killed on the job may not realize is that workers' compensation is still likely the only remedy for the surviving spouse or children to receive financial compensation for their loss.  While people typically associate workers' compensation with cases where the victim is only injured, fatal workplace accident cases will require the decedent's heirs to file a workers' compensation death benefits claim in the name of his or her estate. This is a fairly complex process, and the best thing you can do is to speak with an experienced Boston workers' compensation attorney as early in the process as possible.
In the Commonwealth of Massachusetts, a workers' compensation death benefits claim can include compensation for funeral expenses, medical bills associated with the fatal injury or illness, and lost wages.  The lost wages portion of the claim will likely be the most substantial part of the claim, because this will typically include the money the employee would have earned and provided to his or her family had the fatal on-the-job accident not occurred.
However, while this can be a substantial amount of compensation, the workers' employer, or more likely his or her employer's workers' compensation insurance company will likely try to lower the amount of damages.  This is why you want to make sure you have someone on your side fighting for your rights to a full and appropriate workers' compensation benefits award.
If you or someone you love has been injured a Boston work accident, call for a free and confidential appointment at (617) 777-7777.
Additional Resources:
Canton HVAC worker dies in fall from building, Jan. 18, 2017, By Steven H. Foskett Jr., The The Patriot Ledger
More Blog Entries:
Parr v. Breeden – Supervisor Co-Workers Not Liable Under Workers' Comp Exclusive Remedy, July 3, 2016, Boston Work Accident Lawyer Blog