As we recently reported on our Massachusetts Workers Compensation Lawyers Blog, the entire month of June is being dedicated to worker safety by the National Safety Council (NSC).
During this time, officials are working to educate employees about the risks they face on the job and they are also offering simple ways to help to reduce these kinds of risks. We recently discussed the importance of ergonomics.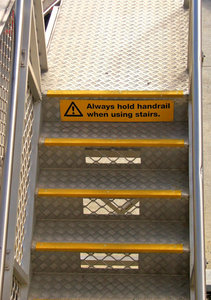 For the third week of the month-long campaign, we will be discussing the risks that are associated with slips, trips and falls as well as ways to prevent these kinds of accidents. This is an important topic to discuss through this campaign as falls are among some of the top causes of unintentional injury. These accidents account for nearly 10 million emergency room visits every year in the U.S.
Our Boston personal injury attorneys understand that fall-related accidents are completely preventable. Most people think fall accidents are the result of being clumsy or simply not paying attention, but the truth of the matter is that there are many factors that are involved in fall accidents. Some of these factors include your environment, your health condition and various age-related issues. Luckily, there are simple ways to help to reduce the risks for a slip, a trip or a fall in your home and in your work environment.

Simple Ways to Reduce the Risks of Fall Accidents:
-Make sure that floors are clear of clutter at all times.
-Make sure that all walking areas are well lit.
-Keep electrical cords out of walkways. If they need to be there, be sure to keep these cords secure.
-Consider putting non-skid rugs in slippery areas. Bathrooms are a common place for these items.
-On stairways and porches, consider installing handrails.
-Use a sturdy step stool when climbing or reaching for something up high.
-If you spill something on the ground, clean it up immediately.
-Make sure you wear non-slip, sensible footwear.
-You never want to stand on anything that has wheels, like a table or a chair.
-Make sure that your furniture is arranged so that there's plenty of walk room.
-In outdoor walkways, be sure to clear fallen leaves, snow and other hazards.
-Remember that alcohol and medications can increase your risks for a fall. Many medications can alter a person's balance. Know the side effects of your medications.
Chances are that you have a friend or someone in your family who has suffered a fall-related accident. Maybe you have experienced one of these accidents personally. Falls took the lives of about 25,000 people in 2009. Take the time to remove slip, trip and fall hazards to keep your family and your workplace safe.

The Boston workers' compensation lawyers at Jeffrey Glassman Injury Lawyers are here to fight for the victims of work accidents. If you would like to file a claim and you need assistance fighting for the compensation you deserve, call today to set up a free and confidential appointment to discuss your case. Call (617) 777-7777.
More Blog Entries:
Ergonomic Conditions and Work Accidents in Boston and Elsewhere: NSC Week 2, Massachusetts Workers Compensation Lawyers Blog, June 11, 2012
Work Accidents in Boston and Elsewhere Targeted through National Safety Month, Massachusetts Workers Compensation Lawyers Blog, May 31, 2012