Even if someone has never actually seen a Cirque du Soleil performance in person, pretty much everyone is familiar with what the performance involves. Essentially, it is a circus with only human performers, meaning no animal acts, and it showcases the talent and artistry of the performers.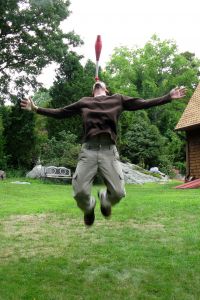 There are a variety of different acts, and many of them involve a significant risk to the performers' safety. While the performers use safety devices when appropriate, some do become seriously injured on the job and may be left without pay and must apply for workers' compensation benefits, according to a recent article from the Wall Street Journal.
The article focuses on the story of one performer who had been with the show for a long time and played an important role in of the circus's productions in Orlando, Florida. She was performing a flying stunt and had inadvertently forgotten to double loop her safety harness. Her co-performer did not notice the problem either, and she fell four stories from the high wire act to the stage below.

As a result of the accident, she shattered 19 bones from the waist down. As he described, it was "like a horse that broke its leg, once you are injured you are pretty much no good for them anymore." Like professional athletes, these performers are aware they are at high risk for being injured on the job. However, unlike pro athletes, circus performers do not get paid when they are injured and unable to perform in the show.
As our Boston workers' compensation attorneys can explain, if these workers are classified as employees and not independent contractors, they can apply for workers' compensation benefits for the time they are unable to work. Fortunately, for those injured while working for this particular circus, the company claims all performers are classified as employees and covered with workers' compensation insurance and provided with additional benefits, unlike performers working for some other circus companies.
One of the major problems an injured employee, who is fortunate enough to have workers' compensation coverage in the first place, may face involves a valuation of the lost wages claim. It is likely the insurance company will not want to pay an injured worker any more than they believe they have to and will try to undervalue a particular claim. The best thing you can do if you are injured on the job is consult with an experienced workers' compensation attorney as soon as possible. Not only will this help you learn what your rights are in terms of a full and appropriate workers' compensation benefits settlement, you will have someone on your side during the entire process.
It is also important to make sure your employer files an incident report for the accident or work-related injury or illness immediately after it happens. While, in the case of a performer falling 40 feet to the stage below, this may not be an issue, some injuries are not obvious when they occur. It is often the case that a person will suffer a muscle strain or other structural injury and not realize the extent of the pain until later that night. Some people will take the approach that it is best to see if it gets better on its own and not report the injury and seek medical attention. If you take this approach, you may risk having far more problems when applying for workers' compensation benefits.
If you or someone you love has been injured a Boston work accident, call for a free and confidential appointment at (617) 777-7777.
Additional Resources:
The Perils of Workers' Comp for Injured Cirque du Soleil Performers , April 24, 2015, Wall Street Journal
More Blog Entries:
Increased Fines for Employers Who Do Not Maintain Workers' Compensation Coverage, July 22, 2014