According to recent news report from CBS Boston, a worker was filling a propane tank for a customer at an oil and gas distributor in Marshfield when the tank suddenly exploded. The propane company employee and the customer who owned the tank were serious injured as a result of shrapnel from the exploding metal propane tank.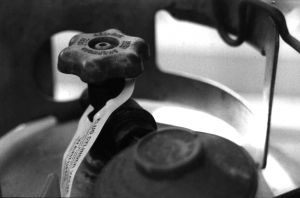 Witnesses say the tank then turned into what was essentially a missile and flew towards the neighboring liquor store and extremely high speeds. When the tank flew from the propane distributor, witnesses say in narrowly missed hitting a car and then continued towards the neighboring business. Customers inside the store aid the sound and the shock was jarring and glass fell from the shelves of the store and a large clock was also knocked off the store wall.
A fire marshal who inspected the damage said the tank was old and heavily rusted and should never have been filled in the first place. He further said anyone filling the tank should inspect it to make sure it is proper condition, and if a tank in this condition is seen, it should be immediately taken out of service and never filled with pressurized propane liquid-gas.

Both men were seriously injured from the shrapnel. The customer's injuries were so severe first responders had to do what they could to stabilize the victim before calling for a medevac helicopter to rush him to a level one trauma center in Boston. The employee's injures were not severe as the customer's but his injuries were still listed as critical and he was also rushed to a local hospital for treatment after his on the job accident.
While the fire marshal seemed to believe the worker may have responsible for this serious accident as the tank was too rusted to be refilled, it is important to note there has been no fining of liability in connection with this serious on the job accident as this time.
As our Boston workers' compensation attorneys can explain, unless a worker intentionally causes an accident, being negligent will not prevent him or her from collecting workers' compensation benefits. The reason for this is because negligence on behalf of employer is not required under what has been designed as no fault system.
This was designed as compromise between the needs of workers injured on the job to have more timely access to compensation and an employer's desire not to face liability from employees who are injured during routine workplace accidents.
It is only necessary to establish worker was an employee (not an independent contractor), and the accident occurred on the job. However, it should also be noted even if employer was determined to be negligently responsible for an accident, an injured worker would be precluded from also filing a civil negligence claim if he or she is eligible to receive workers' compensation benefits. This is because in most circumstances, workers' compensation is considered injured employee's exclusive remedy.
However, if third party at fault in work related accident, and this person was a fellow employee of injured workers, he or she may be able to file a personal injury lawsuit against this third party in addition to filing for workers' compensation benefits.

If you are injured on the job in Massachusetts, call Jeffrey Glassman Injury Lawyers for a free and confidential consultation to discuss your workers' compensation claim: (617) 777-7777.
Additional Resources:
Propane Tank Explodes, Injures Two Men In Marshfield , May 26, 2015, CBS Boston
More Blog Entries:
Frith v. WSI – Proving Worsening Condition Is Related to Work Injury, May 27, 2014, Boston Workers' Compensation Lawyers Blog