Last month, our Quincy workers' compensation lawyers discussed the Top 10 Work Accidents in 2012. These work accidents caused thousands of lives to be lost and resulted in as many as 15 workers per day going to work in the morning and not coming home safely at the end of their shift.
Understanding the top causes of workplace accidents is absolutely imperative in order to work towards better prevention efforts. To encourage employers to implement safety policies and to encourage workers to use extra caution to avoid some common risks, our workers' compensation attorneys are discussing some of the top workplace accidents in greater detail. Today, we'll be taking a look at the risks of electrical injury.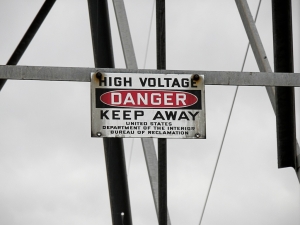 The Dangers of Electrocution and Electrical Burns at Work
Electrocution refers to death caused by an electrical shock. The body is a conductor of electricity and if you are exposed to too much electricity, it can stop your heart, damage your cells and cause serious burns. Unfortunately, despite the serious dangers associated with electrocution, employers still wracked up more than 1,330 violations of electrical safety requirements in 2012.
OSHA imposes a number of different requirements when it comes to electrical safety. In 29 CFR 1926.416(a)(1), for example, OSHA mandates that employees all must have appropriate protective gear when they are working near to any electrical power circuits.
Despite the OSHA regulations intended to keep workers safe, electrocution injuries happen all-too-often. These injuries can happen in a variety of different types of work settings but OSHA reports that there are certain common causes of electrocution at work. According to OSHA:
Workers suffer electrocution most often when working with overhead power lines. Coming into contact with electrical current from overhead lines accounted for 42% of workplace related deaths due to electrical exposure.
The second most common cause of electrocution in the workplace is the workers' failure to properly de-energize electrical devices prior to starting work.
The third most common cause of workplace electrocutions is closely related to the second cause. In this case, workers don't fail to properly de-energize the devices but they instead mistakenly come into contact with devices they thought were de-energized.
Workers coming into contact with these or other electrical sources need to be especially careful to avoid the risks presented by working closely with electricity. Workers also need to remember that any employee is technically vulnerable to suffering an electrical injury. In fact, a full 36 percent of non-fatal injuries related to electrical exposure at work resulted from contact with the electrical current feeding a tool or light fixture.
Both workers and employers, therefore, need to be aware of the dangers that can come with electrical exposure. Employers should have clear-cut safety guidelines and procedures in place, including guidelines about de-energizing electrical devices. Workers need to follow employer safety rules and also take extra care in situations where exposure to electrical current is a possibility.

If you or a loved one has been injured or killed on the job, call Jeffrey Glassman Injury Lawyers for a free and confidential consultation to discuss your workers' compensation case — (617) 777-7777.
Additional Resources:
Boston Work Injury Watch: Top 10 Work Accidents in 2012, Massachusetts Workers' Compensation Lawyers Blog, October 24, 2012