According to a recent news article form NECN, a worker in Plymouth was killed when an avalanche of sand trapped and crushed him and the bulldozer he was driving. He was working for a sand and gravel company, and he and other workers were operating bulldozers and other heavy machinery to remove sand from a large pile that measured over 150 feet high.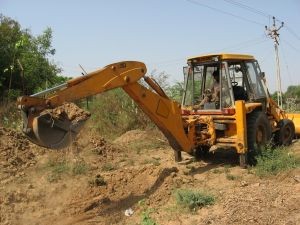 More than two dozen emergency workers from across Plymouth County arrived to help get the trapped workers out from under the sand. They used heavy equipment and teams of workers to try and unearth the bulldozer, but more sand and large rocks would fall on top of what they had just removed, making it virtually impossible to make any progress in a short of amount of time. As the day wore on, and the temperature became hotter, the sand would dry out, making it even more difficult to move.
Authorities say the were finally able to reach far enough into the large bulldozer to grab the employees hand, but quickly realized the 65-year-old man was nonresponsive, as he had been killed by the weight of the sand or possibly from asphyxiation.
The cause of the accident is still under investigation, and as our Boston workers' compensation attorneys can explain, in the case of a fatal industrial accident, the United States Occupational Safety and Health Administration (OSHA) is required to perform a full investigation and determine the cause of the accident, and to see if any safety violations had occurred which contributed to the fatal accident. If OSHA determines there were safety violations, it has the power to issue violation reports and assess fines on the company responsible for any violations. It should be noted that OSHA is investigating this accident according to agency policy, and it has not determined the company committed any violations as of this time.  The company did, however, decline to make any comment in response to this fatal on-the-job accident, though is not necessarily out of the ordinary for a company to refuse to speak with reporters following an accident. In many cases, the company will simply express their condolences to the family for their loss.
Many people do not realize the extreme dangers when working around large amounts of loose material, such as sand or gravel at a quarry or cement factory, or in a grain bin or silo. It is easy to assume the large pile of loose material is relatively stable due to the massive total weight, but it is very easy for the material to shift, and when it does, people and equipment can be quickly buried. Even though the material was able to shift quickly, that does not mean it will be easy to get someone unburied, as the whole area will often keep filling itself in as fast as you clear away what falls in, as was the case in this fatal workplace accident. For that reason, workers should exercise extreme caution in these types of work environments
If you or someone you love has been injured a Boston work accident, call for a free and confidential appointment at (617) 777-7777.
Additional Resources:
Worker Killed After Trapped by Sand Avalanche, June 30, 2015, NECN
More Blog Entries:
Increased Fines for Employers Who Do Not Maintain Workers' Compensation Coverage, July 22, 2014