According to a recent news article from PIX 11, a worker for an environmental protection contractor was killed when he fell into a huge concrete tank at a wastewater treatment facility in Brooklyn, NY.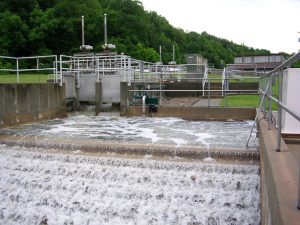 He was an employee of a contractor that had been hired to perform some major work at the city's wastewater treatment plant.  Specifically, the worker was there to install a system to de-chlorinate water that had already been treated.  The equipment was being installed into a water channel at the facility.
However, while the man was inside one of the massive treatment tanks at the facility, he managed to become trapped.  When workers learned that he was trapped in the tank, they immediately called 911, and first responders arrived at the plant and attempted to rescue the man.  They sent divers into the tank of wastewater, and there was obviously a lack of visibility, so they were unable to find him quickly.  After about eight minutes of searching the tank, long after the time he would likely have drowned, divers found his body at the bottom of the tank.  The tank in which he was trapped was 35 feet deep.   This and the murky water was the reason it took so long to find his body.
Somewhat surprisingly, he was still alive when the divers found him, even though he been in this tank of water for a relatively long amount of time.  However, he was in cardiac arrest when he was finally located, and the first responders began performing CPR.  He was given CPR as he was rushed to a local level-one trauma center.  He was pronounced dead soon after he arrived at the hospital.  It should be noted that there is still an ongoing investigation, and it is not clear why or how he managed to fall into the tank of wastewater.
While people typically do not think of workers' compensation in workplace accidents in which someone is killed as opposed to just being injured, workers' compensation is not only appropriate in fatal workplace injuries, it is often the only allowable remedy.  In a case in which as worker was killed, as our Boston workers' compensation attorneys can explain, you will be making a claim for what are commonly referred to as workers' compensation death benefits. Workers' compensation death benefits can include funeral expenses, the medical bills associated with the fatal injury or illness, and payment for lost wages.  Lost wages benefits are likely to be the most substantial part of workers' compensation death benefits award.   The reason for this is because the lost wages component of a workers' compensation death benefits award is designed to compensate the family for the amount of money the worker would have earned and provided to his or her family had he or she not been killed on the job.
However, there is often much argument raised by the employer, or more likely his or her workers' compensation insurance company as to what amount is appropriate for a workers' compensation death benefits award. It is for this reason that you want an experienced attorney on your side who is fighting for your right to a full and appropriate workers' compensation award.
If you or someone you love has been injured a Boston work accident, call for a free and confidential appointment at (617) 777-7777.
Additional Resources:
Wastewater Worker Dies after Falling into Tank at Brooklyn Treatment Plant, October 27, 2016, By Joe Mauceri, PIX 11
More Blog Entries:
Scope of Employment in Workers' Compensation Cases, March 29, 2016, Boston Workers' Compensation Lawyer Blog