There is nothing quite like going to the fair. Whether it is teenagers heading out to the fair in the last days before school starts again, or family heading out for a day of fun, there is always a lot to see and do. It is also the chance to eat some of the unhealthiest foods imaginable.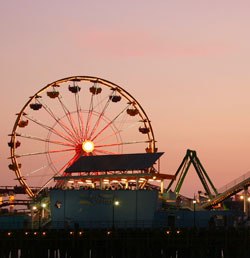 However, men and women who work at a fair and travel with it across the country are working a job just like any other, and just like any other job, there are employees who get injured. According to a recent news article from WMUR, the Cornish Fair in New England had to close one of the rides after one worker and two guests were injured in an accident.
Authorities say a 28-year-old woman and her eight-year-old daughter were boarding a ride called the Zipper when they fell 10 feet to the ground. Fire department officials believe the ride suffered mechanical failure, causing it to move as one of the cars was being loaded. This caused the mother and her young daughter to fall. When they fell, they landed on a 23-year-old carnival worker who was operating this particular ride at the time of the accident. All three victims were taken to a local hospital, treated for injuries and later released. The ride is still closed as of the time of this article.
The amusement company responsible for operation of the ride said tens of thousands of people safely ride its attractions throughout the day, and the vast majority of them do so without incident. They insist that, while some small incidents are bound to occasionally happen, they are doing everything they can to provide a safe and enjoyable ride.   On the other hand, many say these companies should be doing more to make sure their rides are set up properly and properly maintained. Interestingly, none of the people interviewed for this story were concerned about the possibility of a design defect, rather than operator error.
As our Boston workers' compensation attorneys know, for an injured worker employed at a carnival, fair, amusement park, ski area, and other type of recreation facility, management may try to claim worker is a contractor and not an employee. If worker is an independent contractor, he or she is probably not entitled to workers' compensation.
However, many companies hire workers, treat them like employees, express the same degree of control over them as they would an employee, and then deny their status as employee for purposes of taxes and workers' compensation. If a worker travels with the fair, uses their employer's equipment, and operates it according to specifications provided by management, there is a good chance worker is an employee eligible for workers' compensation, despite employer misclassifying employee as an independent contractor.
If you are injured on the job in Massachusetts, call Jeffrey Glassman Injury Lawyers for a free and confidential consultation to discuss your workers' compensation claim: (617) 777-7777.
Additional Resources:
2 riders, worker hurt in Cornish Fair ride accident, August 23, 2015 WMUR, by WMUR Staff Writers
More Blog Entries:
LeFiell Mfg. v. Super. Ct.: Workers' Compensation Exclusivity and Rare Exception, August 18, 2014, Boston Workers' Compensation Lawyers Blog