A popular chain of supermarkets was recently fined by the Occupational Safety and Health Administration for failing to protect workers from work accidents in Massachusetts and in New Hampshire. The company, DeMoulas Supermarkets Inc. does business as Market Basket, and is now facing fines of nearly $600,000 after being cited with 30 violations. A majority of the violations resulted from the company failing to once again eliminate laceration and fall hazards after already being warned, and for not properly responding to a worker's injury-resulting accident.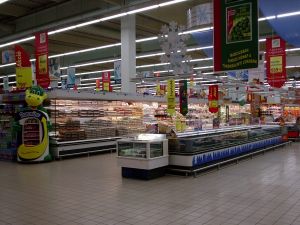 "Employers with multiple locations have a responsibility to ensure safe and healthful working conditions at all of their workplaces," said Assistant Secretary of Labor for OSHA Dr. David Michaels.
Our Boston workers compensation attorneys would like to reiterate the importance of safe work conditions for all employees. Regardless of the industry, employees are required to be protected from injury on the job. If a company is observed neglecting this obligation, it can face serious fines, penalties and potential shutdown.
The inspection of these stores started after a worker broke his arm and suffered from head trauma after an 11-foot fall to the concrete floor. In this accident there was an inadequately guarded storage mezzanine. The store didn't deal with the accident properly. Instead of calling for professional help, store management got the worker a wheelchair, sat him by the receiving dock, and made him wait for a relative to come and pick him up to take him to the hospital.
Another inspection was conducted after a supervisor from OSHA witnessed the same type of fall hazard at another one of the company's stores. At several stores, workers were not provided with adequate guardrails to help prevent falls.
The laceration dangers pertained to employees who worked in the bakery, deli and produce departments. Since the grocery stores failed to conduct hazard assessments, the workers were unnecessarily exposed to dangerous knives.
The company has previously been informed about both the fall and the laceration hazards. For neglecting to address these problems, the company was slammed with more than $260,000 in fines. A company is required to correct hazards after being notified by OSHA. When a company fails to make these corrections, serious penalties occur.
They also received nearly $226,000 in citations for the repeat violations.
The repeat violations were witnessed at the following stores:
-Andover
-Westford
-Tewksbury
-Fitchburg
-Ashland
-Salem
Other violations were handed over with fines of nearly $103,000. These fines were for failing to report the fall accident properly and for moving an employee who had been injured. Even more violations were handed out for failing to cover electrical equipment, lacking hand and eye protection, allowing employees to work near battery acid, and neglecting to keep the emergency eyewash station working correctly.

If you or a loved one has been injured at work or have a Massachusetts workers' compensation claim, contact Jeffrey Glassman Injury Lawyers for assistance. Accountability is the number one priority, so call toll free at (617) 777-7777 for a free appointment to discuss your rights.
More Blog Entries:
Braintree Man Dies in County-Funded Project after Work-Related Traffic Accident in Quincy
October 19, 2011
Hearing Loss-Related Work Accidents in Boston and Elsewhere the Topic of OSHA Meeting
October 9, 2011