We posted previously on our Massachusetts Workers' Compensation Lawyers Blog that 2010 occupational deaths occurred at a rate of 3.5 per 100,000 full-time or equivalent workers, which equals on average roughly 12 people dying on the job every single day last year.
According to recent information released by the U.S. Department of Labor Bureau of Labor Statistics, the number of cases of workplace illnesses and injuries in Massachusetts and nationwide weren't all that great either. There were more than 3 million private sector industry employers who reported an illness or injury caused by a job responsibility assigned to a laborer.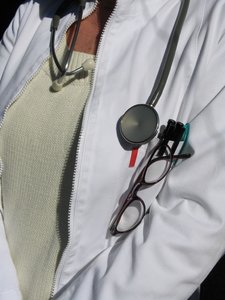 Our Boston workers' compensation lawyers know that construction is one industry where workers are in danger of risking their lives from fall accidents, transportation accidents or being struck by an object, but the recent Bureau of Labor Statistics (BLS) report indicated workers in the health care industry are also at considerable risk of illness or injury while performing duties on the clock.
In a recent statement, Secretary of Labor Hilda L Solis said "We remain concerned that more workers are injured in the health care and social assistance industry sector than in any other, including construction and manufacturing, and this group of workers had one of the highest rates of injuries and illness at 5.2 cases for every 100 workers."
The following are key findings from the 2010 Occupational Injuries and Illnesses Summary:
In 2010, there was an incidence rate of 3.5 cases per 100 equivalent full-time workers, slightly down from 3.6 in 2009.
Incidence rates declined significantly for private industry workplaces in 2010 in total recordable cases.
The manufacturing industry was the only private industry sector to show an increase in incidence rates of illnesses and injuries. There were 4.3 cases per 100 full-time workers in 2009 which increased to 4.4 in 2010. There is some speculation that this had more to do with less hours worked than the actual decline in cases reported.
The private construction industry sector reported a 7 percent decrease in total recordable cases going from 4.3 cases per 100 full-time workers in 2009 to 4.0 in 2010. This decline primarily occurred due to the fact that specialty trade contractors reported a similar decrease reporting 4.3 cases per 100 full-time employees in 2010 which was down .3 from the previous year.
Social assistance and health care workers reported an illness and injury rate of 5.2 cases per 100 full-time workers in 2010. The 2009 case per worker rate was 5.4. This was the only industry sector to report more hours worked and employment opportunities for 2010 when compared to 2009.
Private industry workers reported 3.4 cases per 100 full-time employees which was unchanged from 2009.
Poisoning was an illness category that showed an increase in 2010 from 2009, reporting 3 cases per 10,000 full-time employees. The rate was .2 cases in 2009. The incidence rate for illness cases overall showed minimal change from 2009 to 2010.
National public sector incidence which included over 18 million local and state government workers occurred at a rate of 5.7 cases per 100 full-time employees in 2010.
Illnesses and injuries occurring at work should never go unreported. Workers' compensation or disability claims can be complex and difficult to sort out so contact an experienced attorney to help get you on the right track to receive the compensation you deserve.

Jeffrey Glassman Injury Lawyers are a group of experienced and knowledgeable workers' compensation lawyers dedicated to fighting for the rights of injured workers in Boston or the surrounding areas. Call (617) 777-7777 for a free consultation.
More Blog Entries:
Hearing Loss-related Work Accidents in Boston and Elsewhere the Topic of OSHA Meeting, Massachusetts Workers' Compensation Lawyers Blog, October 9, 2011.
Premiums Increase as Work-Related Accidents in Massachusetts and Elsewhere Decrease, Massachusetts Workers' Compensation Lawyers Blog, October 5, 2011.
Public Health Council Discusses Work-Related Illnesses in Massachusetts, Massachusetts Workers' Compensation Lawyers Blog, October 3, 2011.