State, ex rel., Dep't of Workforce Servs. v. Hartmann, a workers' compensation appeal from the Supreme Court of Wyoming, involved claimant who was injured while driving a 240-ton truck in the course of his employment. A 240-truck is a giant dump truck typically used in conduction with a mining operation to haul material to a processing plant.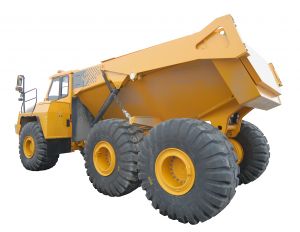 While driving, claimant was struck from behind by a shovel bucket of another huge piece of mining equipment. According to court records, the shovel bucket was large enough to hold an automobile. It hit the rack of the dump truck located behind the operator's cab. Claimant testified the force from the impact caused his entire body to go numb and to nearly knock him unconscious. He was not sure where he was or what he was doing following the collision and was taken to the emergency room.
At the hospital, he complained of neck pain and was diagnosed with cervical spine pain. He was released and cleared to return to work with instructions to return for a follow-up appointment in seven days. This was not the first time a doctor treated claimant for neck pain, as he had previously suffered a C5-6 disc herniation. He was given more medication and told there was a 90 percent chance his condition would improve within a few weeks.

After returning to work, he saw several more doctors, complaining the pain had not subsided and it made it difficult for him to work. His doctor performed a cervical disc replacement of the affected area. Until this latest surgery, his employer's workers' compensation insurer had paid claimant's medical bills.
The following month, he saw a specialist who diagnosed claimant's neck condition as having gotten significantly worse and found a 50 percent reduction in range of motion in his neck.
At the follow-up visit, claimant complained of persistent numbness and tingling in his arms due to the on-the-job injury. Doctors concluded his recent accident had exacerbated his preexisting neck condition and prescribed anti-inflammatory medicine. He was told to return to work in three weeks.
A year later, claimant started experiencing dizzy spells and saw a doctor. He was diagnosed with vertigo. He was sent to occupational therapy, and the new treatment significantly reduced his dizziness. When he submitted his latest claim for reimbursement, his claim was denied on grounds his latest condition was not work-related. He appealed, and at the hearing, judge found it was not work-related, but found some of the testing was necessary to rule out a work-related injury and approved partial payment of benefits. As workers' compensation attorneys can discuss, preexisting medical conditions can make a claim more complex, but that does not mean workers will not be entitled to compensation.
Claimant appealed this decision to the district court. This court found workers' compensation judge's findings were not consistent with the evidence and reversed the order. Employer appealed this to the state supreme court.
In this appeal, court found claimant had met his burden of proving his dizziness was more probably than not related to his workplace accident.
If you are injured on the job in Massachusetts, call Jeffrey Glassman Injury Lawyers for a free and confidential consultation to discuss your workers' compensation claim: (617) 777-7777.
More Blog Entries:
U.S. Lags in Safety Protections for Temp Workers, June 23, 2014, Massachusetts Workers' Compensation Lawyers Blog