A Someville company received a number of safety hazard violations from the U.S. Department of Labor's Occupational Safety and Health Administration (OSHA) after a Massachusetts work injury.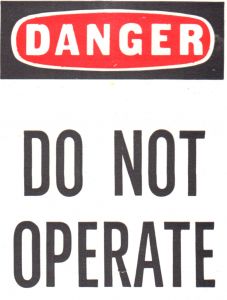 A workplace injury at Royal Institutional Services Inc., a commercial laundry located at 30 Innerbelt Road, resulted in four separate violations. One of the company's mechanics sustained a crushing hand injury earlier this year while he was lubricating the chain of an ironer machine that was running. The company now faces fines of nearly $50,000.
Following the accident, OSHA administered an inspection and found that the machine had not first been de-energized and had its power source locked out before maintenance was performed. This safety precaution is required by the agency's hazardous energy control or "lockout/tagout" standard. Our Boston workers' compensation attorneys understand that these standards are in place to protect workers from potential injuries. When a company is discovered to neglect to protect workers, fines, fees and potential shutdown can result.
In addition to that initial violation, OSHA also discovered that employees that were authorized to perform maintenance were not effectively trained to safely perform these types of activities. They were also not evaluated to ensure that they understood and had been correctly demonstrating adequate energy control procedures.
"It's not enough for an employer to have a hazardous energy control program in place. It must be effective, and authorized employees must be effectively trained so they will understand and safely utilize proper procedures," said Jeffrey A. Erskine, OSHA's area director for Middlesex and Essex counties in Massachusetts. "Failure to do so can result in serious injury, such as occurred here."
The company received a repeat violation for the lack of energy control procedures. They also received two serious violations for the lack of effective training and evaluation for employees and one other-than-serious violation for a lack of documented lockout procedures for a machine. The repeat violation cost the company $35,000 while the two serious violations came with a $14,000 fine.
Companies will receive a repeat violation when an employer had been previously cited for the same violation within the last five years and has failed to make the proper changes to make the workplace safer. Royal Institutional Services Inc. received their initial violation in March of 2006.
A company will receive a serious violation when they expose their employees to a substantial probability of serious injury or death from a hazard that an employer either already knew about or should have known about.
Employers are required to provide safe work conditions for all employers. If an accident happens on the job and an injury results, employers can be required to provide the necessary compensation to the employees for pain, suffering and lost wages.
"Employers should be aware that the Department of Labor will actively pursue appropriate legal measures to protect the lives and well-being of America's workers when their employers fail to do so," said Michael Felsen, the Labor Department's regional solicitor for New England.

If you have been injured at work in the Boston area, contact Massachusetts Workers' Compensation Attorney Jeffrey S. Glassman for a free and confidential appointment to discuss your rights. Call (617) 777-7777.

More Blog Entries:
OSHA Releases New Compliance to Prevent Work Accidents in Massachusetts and Elsewhere, Massachusetts Workers Compensation Lawyers Blog, June 3, 2011
Folan Waterproofing and Construction Co. Receives Nine Citation for an Unsafe Work Site in Massachusetts, Massachusetts Workers Compensation Lawyers Blog, May 19, 2011
OSHA Revamps Their Scaffold Regulation to help Prevent Work Accidents in Boston and Elsewhere, Massachusetts Workers Compensation Lawyers Blog, July 2, 2011