Workers who work on scaffolds need more protection from falls and other deadly work accidents in Boston and elsewhere. The Department of Labor's Occupational Safety and Health Administration (OSHA) recently renewed its Alliance with the Scaffold Industry Association Inc. (SIA) to do just that.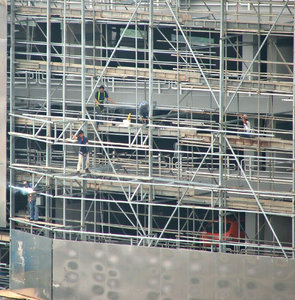 "The materials developed through our Alliance are valuable resources for training and educating workers on the hazards they can face in their jobs and how they can be prevented," said Assistant Secretary of Labor for Occupational Safety and Health Dr. David Michaels. "Four of the ten most frequently cited OSHA construction standards involve scaffolding, so renewing this Alliance is a great opportunity to build on our work to better protect the men and women who work on scaffolds."
Our Boston workers compensation attorneys understand that rules and regulations regarding workers who work on scaffolds need to be updated periodically. Workers are faced with more and more hazards and dangers as technology advances and work practices change. It is important for employers and employees to keep up with these changes and to improve safety measures to protect workers from all preventable accidents.
The initial nationwide Alliance was first put into effect back in 2008. Since then, OSHA and SIA have developed Transport Platforms and Mast Climbing Work Platforms safety materials relating to scaffold and fall hazards. They've also developed the American National Safety Institute (ANSI) consensus standards. A number of these documents have been translated in to Spanish and Portuguese as well to make them more available to workers of all backgrounds.
Goals of this new version of the Alliance include increasing awareness of OSHA's rulemaking and enforcement initiatives, developing new effective training and education programs, and conducting outreach and communication activities on workers' rights and employers' responsibilities. In the meantime, the organizations will continue to emphasize the importance scaffold safety. They'd like to raise awareness about the issues related to mast climbing scaffolding, suspended scaffolding and aerial lift equipment.
According to Bureau of Labor Statistics' Census of Fatal Occupational Injuries (CFOI) there were nearly 90 fatalities that happened in 2007 from scaffolds. In a recent Bureau study, more than 70 percent of workers that were injured in scaffold accidents report that the accident happened because the planking or support gave way, or the employee slipped or was struck by a falling object. All of these can be controlled by compliance with OSHA standards.

If you have been injured at work in the Boston area, contact Massachusetts Workers' Compensation Attorney Jeffrey S. Glassman for a free and confidential appointment to discuss your rights. Call (617) 777-7777.
More Blog Entries:
Massachusetts Construction Accident Results in Fall Injury at Rockland High, Massachusetts Workers Compensation Lawyers Blog, June 7, 2011
Two Companies Face Thousands in Fines for Neglecting to Prevent Workplace Accidents, Massachusetts Workers Compensation Lawyers Blog, June 10, 2011
OSHA Releases New Compliance to Prevent Work Accidents in Massachusetts and Elsewhere, Massachusetts Workers Compensation Lawyers Blog, June 3, 2011