Electrical General Corp. v LaBonte
In a recent case from the Maryland Court of Appeals, which is the state supreme court for that jurisdiction, a claimant was originally injured while he was at work for his employer.  The accident occurred when he caught a ladder that was falling. He caught the ladder to prevent it from injuring him or his co-workers and pushed it back up against a wall to keep if from falling.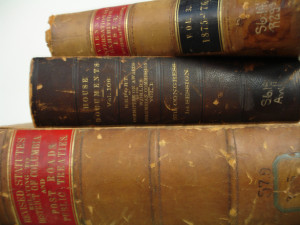 This ladder was 40 feet in length and weighed over 300 pounds.  For this reason, when he saw it falling and was about to land on people, he did what he could to prevent that, but we are talking about a considerable amount of weight at very awkward angle. When he managed to stop the ladder from falling, he testified that he could feel a shift in his back, which then turned in to considerable and constant back pain.  He switched to a light duty position at the company, and then, when things did not get better, he had surgery on his back. In the process of saving the falling ladder, he injured his back.  When the pain did not go away, and he was forced to miss work, he filed a workers' compensation claim with his employer.  The employer's workers' compensation insurance company performed a quick evaluation and determined that he had injured his back to the point where he could not work for a temporary period of time, and he was awarded workers' compensation benefits.
At some point later, claimant was not at work and was stopped by police officers in what they claimed was a routine traffic stop.  During this traffic stop, a law enforcement officer allegedly grabbed claimant and threw him on his vehicle with considerable force as part of his effort to restrain claimant. When he was thrown onto the vehicle, more damage was done to the back injury that occurred in this earlier workplace accident.
At this point, he filed a claim with workers' compensation asking to be again awarded temporary total disability benefits.  As our Boston workers' compensation attorneys can explain, the Labor and Workforce Development office for Massachusetts classifies the extent to which a worker is injured and the time it is expected to take for the worker to get back on the job, if ever, by assigning the worker a disability rating.  While this is the same in most states, the terminology is slightly different in the Commonwealth. Here, the Workers' Compensation Act gives workers the following ratings:
Temporary Total Incapacity
Temporary Partial Incapacity
Permanent Total Incapacity
Permanent Partial Incapacity
In this case, worker's claim to be given a rating of temporary total disability for a second time was denied by the workers' compensation commission. The basis for denying the claim was that this interaction with the police officer was what is known as a "subsequent event" under the relevant state statute.  At this point, the claimant filed an appeal to the denial of his workers' compensation claim. In his appeal, called an issue, he changed his claim to permanent partial disability, he was given an award of workers' compensation benefits.  The commission found that his disability was due in part to his earlier on-the-job accident, and in part due to the incident with the police officer.
After a number of years, claimant again filed for workers' compensation, as petition to reopen his claim.  In this petition, worker claimed his back had gotten worse, and he was requesting further benefits under a partial permanent disability rating. After he filed this petition to reopen his workers' compensation claim, the petition was granted, but the Commission determined that workers' back condition due to any nexus between his workplace injury and his current pain had not gotten worse, so his claim was once again denied.
In other words, the commission found that his first injury was due to a workplace accident. The second time he was injured was an exacerbation of the workplace injury caused by the police officer throwing him onto the car. However, this time, any increased pain was not still tied to the original work accident. Instead, it was due to the incident involving the officer.  This seems rather confusing, and much of the time, things can get reasonably complex and that is why it is best to have an experienced workers' compensation attorney fighting for your right to a full and appropriate award of benefits.
At this point in claimant's quest for additional workers' compensation benefits, he filed a petition for judicial review in the local circuit court.  This is equivalent to the Superior Court for Suffolk County, which is the trial court in our jurisdiction. In his appeal, the trial court found that it was in fact the workplace injury that caused his back pain, and there was a causal connection, so the court ordered additional benefits.
As one could imagine, the employer and, more likely, employer's workers' compensation insurance company was not happy with this ruling that it had to compensate claimant for his injuries, so employer filed an appeal to the Court of Special Appeals.  This is an intermediary appeals court.  In this appeal, the court agreed that workers' increased pain was casually connected the original on-the-job injury.  The court concluded that the police officer throwing claimant on the car did not excuse the employer for liability for the purposes of workers' compensation.
One thing to keep in mind is that when we say liability in the context of workers' compensation, we are not talking about fault in the accident.  Workers' compensation is considered an exclusive remedy in the vast majority of cases where a worker is injured on the job.  This means that if he or she can prove he or she is an employee within the meaning of the statute (not an independent contractor), and was injured on the job or became sick from a work-related illness, there is no need to prove any fault on behalf of the employer.  In fact, it doesn't matter who is at fault.
After the Court of Special appeals affirmed the circuit court's holding, the employer again appealed to the state supreme court.  In this appeal, the court ruled in favor of claimant and affirmed the order from the Court of Special Appeals.
If you are the victim of Massachusetts product liability, call Jeffrey Glassman Injury Lawyers for a free and confidential appointment — (617) 777-7777.
Additional Resources:
Electrical General Corp. v. LaBonte, Maryland Court of Appeals
More Blog Entries:
HVAC Worker in Worcester Dies in Fall Accident, Feb. 13, 2017, Massachusetts Workers' Compensation Lawyer Blog