Construction jobs are one of the more dangerous occupations, and being a roofer is particularly hazardous. According to a recent news release from the United States Occupational Safety and Health Administration (OSHA), one New England-based roofing contractor was fined $70,000 for exposing employees to unnecessary and potentially fatal fall risks.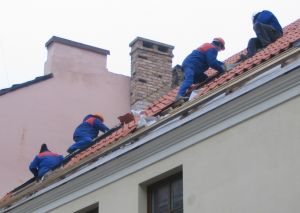 Inspectors found employees working on top of a two-story residential roof without fall protection equipment. According to federal regulations, roofing workers are to be provided with fall protection equipment. In this case, they were without such safety equipment due to a deliberate failure on behalf of the employer.
OSHA reported some workers did not have any fall protection equipment and others were provided with harnesses, but were not tied-off to an independent anchorage point in a way that would have prevented a fatal fall. Workers were also given a ladder with broken rungs to access the roof and were not properly trained to recognize these hazards and take adequate steps to prevent injuries.

OSHA classified this as a wilful violation, meaning consequences and penalties are more severe. OSHA defines willful as an intentional or knowing disregard for legal requirements or acting with plain indifference to worker health and safety.
Our Bostonworkers' compensation attorneys recognize falls are the No. 1 cause of death in the construction industry, both in the Commonwealth and across the nation.
When OSHA identifies a willful violation, employers have 15 days to comply with the recommendations and pay fines, request and informal meeting with OSHA or formally challenge the findings before an OSHA review committee.
One of the most important things a worker can do if he or she is injured on the job is to make sure the accident is reported immediately. It is very important for the employer to complete an accident report, so there is proper documentation.
It is also critical to seek medical attention as soon as possible. If the employer asks if you want to go to the hospital or emergency workers offer you a ride in an ambulance to the hospital, you should always go. You may not yet understand the full extent of your injury, and immediate diagnosis and treatment could be imperative to your recovery.
This will also create documentation in the form of medical records that you complained of an injury as soon as it happened. If you do not see a doctor the day of the accident, and the pain gets worse the following day, or even a few days later, it will more difficult to convince your employer the injury was caused by your work.
It is also important to note that even if your employer is on your side and wants you to be given workers' compensation benefits, the insurance company may still deny the claim.
Insurance companies are big business, and are often greatly invested in paying out as a little as possible in claims. For this reason, workers' compensation carriers have been known to deny valid claims.
Hiring an experienced workers' compensation lawyer can help you effectively combat such practices.
If you are injured on the job in Massachusetts, call Jeffrey Glassman Injury Lawyers for a free and confidential consultation to discuss your workers' compensation claim: (617) 777-7777.
Additional Resources:

Employees exposed to potentially fatal fall hazards at Bridgeport, Connecticut, work site Xtreme Restoration & Waterproofing LLC faces more than $70,000 in fines, October 23, 2014, OSHA
More Blog Entries:
OSHA Fines Welding Company in Connection with Deadly Boston Fire, October 15, 2014, Boston Workers' Compensation Lawyers Blog