It is unfortunate that some employers have such little regard for workers' safety that they fail to make necessary corrections even after being fined for safety violations. The Occupational Safety & Health Administration has issued a Regional News Release detailing how a Massachusetts package handling facility has been cited repeatedly for violations of failing to properly guard a machine. Most recently, the fine was $44,000.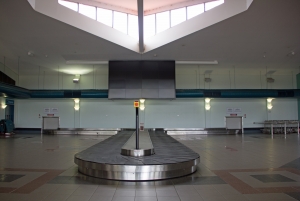 OSHA inspectors discovered that a conveyor belt's rotating parts were not properly guarded to prevent the hands and fingers of workers from getting caught in the mechanism. Conditions similar to this have been known to cause pinched hands and fingers, crushed or amputated hands and fingers, contusions and nerve damage. The law requires these conveyor belt systems be properly guarded so no part of an employee's body can come into contact with moving machinery.
OSHA officials were particularly concerned with these violations because this same employer had been cited on two previous occasions for the same hazard in the past four years. OSHA investigators say that especially in the case of large employer with multiple locations, it is essential that proper machine guarding is put in place and inspected to make sure it is working properly. The fact that this was a repeat violation justified a higher penalty. It should be noted that employer has an opportunity to challenge these allegations through an informal meeting or formal hearing process.

As our job injury attorneys in Boston can explain, workers' compensation claims are handled differently differently than a normal personal injury lawsuit. Workers' compensation was established as a compromise between the needs of injured employees and the concerns of employers.
One of the major benefits to injured employees is negligence is not required in order for an employee to be awarded workers' compensation benefits. In a civil negligence case, there is a requirement that defendant be found negligent in order for plaintiff to be awarded damages. If something was truly an accident for which no party was responsible, there will likely not be a recovery in a personal injury case.
For example, if a worker is doing everything properly and using proper safety equipment but drops a tool that injures another worker, this may be truly an accident for which damages are not recoverable. This injured worker would, however, have a valid case for workers' compensation. That's because proof of negligence is not required to secure compensation for injuries that arise in the course or scope of employment.
However, a workers' compensation award will only cover lost wages and past and future medical bills associated with the injury. Workers' compensation does not provide for pain and suffering, emotional distress, loss of consortium and other types of damages normally associated with a personal injury lawsuit.
This is one of the benefits to employers. An employee generally also does not have a choice between workers' compensation and filing a civil negligence action. If the worker is eligible for workers' compensation benefits, he or she is precluded from filing a civil action in most cases, and exceptions to this are rare.
Still, workers' compensation benefits are not automatically a given, as an employer may seek to argue the injury was not job-related or procedural issues bar the claim. Consulting with an experienced lawyer can help injured workers explore all relevant options.
If you are injured on the job in Massachusetts, call Jeffrey Glassman Injury Lawyers for a free and confidential consultation to discuss your workers' compensation claim: (617) 777-7777.
Additional Resources:

FedEx Ground Packaging System Inc. cited for machine guarding hazard at Wilmington, Massachusetts, distribution center: Carrier cited for similar hazards in New York and Ohio; faces $44,000 fine, October 9, 2014, OSHA
More Blog Entries:
LeFiell Mfg. v. Super. Ct.: Workers' Compensation Exclusivity and Rare Exception, August 18, 2014, Boston Workers' Compensation Lawyers Blog