When we go to the circus, we are often amazed by the dangerous and death-defying stunts performed. It may come, as somewhat of a surprise, that, even with circus stunts, employers are required to adhere to certain safety protocols and regulations.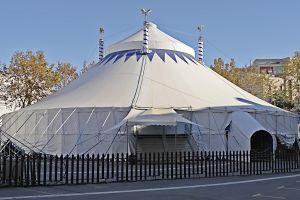 According to a recent news release from the United States Occupational Safety and Health Administration (OSHA), failing to follow safety regulations led to a disastrous accident at New England performance of a "hair hanging" act.
While performing their act, the hair hangers were supposed to be secured to the overhead apparatus using a carabiner similar to those used by mountain climbers. OSHA found the carabiner was overloaded, causing eight performers to fall over 15-feet and land on another worker.

In violation of standard protocol (one does exist) and manufacturer's warnings, the company improperly loaded the safety clip by attaching two pear-shaped rings. Each ring had three cables running from it to the rigging anchor. As a result, there was cross-tension on the tri-axle load instead of a bi-axle load, which the carabiner was designed to handle. Increased force overloaded the carabiner, causing it to break.
OSHA deemed this to be a serious violation and fined the owner $7,000, which is the maximum penalty allowable by law. According to the law, a serious violation is classified as having a substantial probability for death or serious injury that employers knew or should have known was likely to occur.
An OSHA spokesperson stated this shows that circuses need systematic approaches to design and use of structures used in acts that have been evaluated and inspected by professional engineers. It should be noted that federal law allows for employers to challenge the results of an OSHA investigation, as long as they do so within 15 days.
As our Boston carnival injury attorneys understand, some jobs are clearly more dangerous than others. Whether we are talking about a circus performer on a high wire act or a worker installing a satellite dish on the roof of a house, the fact that these occupations are inherently dangerous does not alleviate an employer's responsibility to a relatively safe work environment.
Despite this requirement, an injured worker does not actually need to prove negligence on behalf of his or her employer in order to receive benefits from a workers' compensation claim. Unlike in a traditional civil lawsuit, the mere fact that an accident was work-related should be enough to qualify for benefits, even in cases where the accident was not deemed to be an employer's fault.
However, this does not mean that an employer will quickly approve all claims without putting up a fight. Employers and their workers' compensation insurance carriers routinely deny valid claims, because they are often far more interested in their respective bottom lines than whether an injured worker receives a fair and appropriate workers' compensation benefits award.
Even if the employer does approve a claim, they sometimes tend to undervalue them and pay out less than an injured worker should be getting. This is why it helps to have someone on your side, from the beginning of the process, fighting for your rights and looking out for your best interests.
If you are injured on the job in Massachusetts, call Jeffrey Glassman Injury Lawyers for a free and confidential consultation to discuss your workers' compensation claim: (617) 777-7777.
Additional Resources:
Ringling Bros. and Barnum & Bailey Circus cited for serious safety violation, November 4, 2014, OSHA
More Blog Entries:
LeFiell Mfg. v. Super. Ct.: Workers' Compensation Exclusivity and Rare Exception, August 18, 2014, Boston Workers' Compensation Lawyers Blog