There a new outreach and enforcement regional emphasis program in the New England area, and it's targeting the dangers associated with high-noise work areas in a number of manufacturing industries.
According to the Occupational Safety and Health Administration (NHTSA), this program is going to work in places involved in fabrication and manufacturing of wood and stone products, plastics, metals, as well as dairy, meat and bakery production.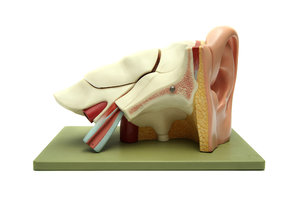 "Exposure to high noise levels can cause permanent hearing loss that cannot be corrected through surgery," said Marthe Kent, OSHA's New England regional administrator.
Our Boston workers' compensation lawyers understand that if an employee is exposed to noise of at least 90 decibels (db), there is a risk of hearing loss. Tens of millions of people are exposed to excessive noise in the workplace. More than 20 million workers in the country are exposed to these kinds of dangers at work, according to the Centers for Disease Control and Prevention (CDC). According to the Bureau of Labor Statistics, there were over 20,000 cases of work-related hearing loss recorded in the U.S. An estimated $242 million is spent annually on worker's compensation for hearing loss disability.
With the new program, officials will be identifying and inspecting work areas that have high noise levels. Through these efforts, they will be reaching out to employer to help to combat the problem.
Knowing if your workplace is too loud:
-You hear a humming or a ringing in your ears when you get off the job.
-You shout to be heard to someone who nearby on the job.
-You experience temporary hearing loss when leaving work.
Under the current standards, there are regulations on workplace sound compliments of officials with OSHA. What they have done is set legal limits on noise exposure in the workplace. The limits are based off of an average 8-hour work shift. During this time, the permissible exposure limit (PEL) is 90 dBA.
Reducing the risks:
-Consider using low-noise machinery and tools.
-Keep all machinery and equipment properly maintained and lubricated.
-Make sure that there is a barrier between the source of the noise and the worker (like curtains or some sort of sound wall).
-Enclose or isolate the noise source.
-Make sure that workers don't spend a long amount of time near a noisy machine.
-Provide workers a quiet area to go to take a break from the noise.
-Operate noisy machines when as few as people possible are nearby.
-Make sure that your testing and monitoring the noise levels on the job frequently.
-Make sure that all workers are trained and properly educated in regards to hazards and preventative measures for noise exposure and control.
-Utilize and wear hearing conservation devices, such as earplugs and earmuffs. Ensure that the device has an airtight seal, which ensures that the loud sounds will not penetrate your eardrums.

If you are injured on the job in Massachusetts, call Jeffrey Glassman Injury Lawyers for a free and confidential consultation to discuss your workers' compensation claim– (617) 777-7777.