There are more than 800 stores under the operation of Monro Muffler Brake Inc. This company provides tire services and auto repair to residents throughout the eastern part of the country.
Recently, the company came to an agreement with the U.S. Department of Labor (DOL). The enterprise-wide agreement states the company will create and enact specific procedures to help to protect workers from being struck or crushed by any of the hydraulic lifts on its work sites.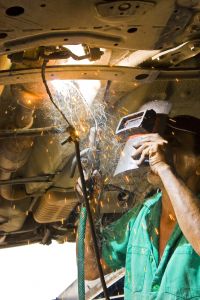 According to the Occupational Safety and Health Administration (OSHA), the company was cited last September by state officials. One of its Stoughton locations was inspected and officials discovered that these hydraulic lifts were not being properly inspected or properly maintained in addition to a number of other hazards. That inspection was the result of an April accident in which a lift failed, dropped the vehicle to the ground and striking an employee. During the initial investigation, the company was fined nearly $20,000 for various citations.
Our Stoughton workers' compensation lawyers understand that hydraulic lifts are used in a variety of occupations. Not only are they commonly found in the workforce, but they are commonly misused as well and wind up injuring and killing workers every year. Whether you're a muffler installer or a tire tech, chances are that you're working around one of these devices. It's critical that safety rules and regulations are emphasized on the job. Failure to heed car lift safety rules can result in injury or death.
If you work with a hydraulic lift on the job:
-Make sure you've got the proper training before you start work with a life.
-Make sure that the lift is inspected before every shift.
-Always be sure that the lift's locking devices engage before starting work under a vehicle.
-Make sure that you always wear the proper eye protection under the vehicle.
-Be sure that the vehicle is balanced and centered on the lift.
-Always check ceiling clearing before engaging a lift.
-Always check the vehicle to make sure it's stable before lifting too high. Always check at about knee height.
-Make sure that the area is clear before lowering the lift.
-Never lift a vehicle that has people inside.
-Never overload the lift or exceed the capacity.
-Never stand under a lift that does not have the locking mechanisms engaged.
-Never try to fix a lift yourself. If it's broken, notify your supervisor to contact the company.
"That means safer working conditions for thousands of workers at hundreds of workplaces," said Marthe Kent, OSHA's regional administrator.
Under the agreement laud out for Monro, the company will have a new maintenance and inspection program for its lifts and will work to better train operators. It has also agreed to pay more than $12,000 in fines for the violations initially observed.

The workers' compensation attorneys at Jeffrey Glassman Injury Lawyers are here to offer free and confidential consultations to those who have been injured at work. Call (617) 777-7777 today!
More Blog Entries:
New England Fall Hazards Cited at Construction Sites, Massachusetts Workers Compensation Lawyers Blog, August 16, 2012
Foundry Company Risks Employees of Dangerous Lead Exposure, Massachusetts Workers Compensation Lawyers Blog, August 14, 2012