Four employees suffered work injuries in Middleton that resulted in an inspection from the Occupational Safety and Health Administration (OSHA) and roughly 50 safety violations against the company, Bostik Inc. The manufacturer of adhesives now faces more than $900,000 in proposed fines from OSHA.
The work accident happened back in mid-March, in which the company's Middleton facility experienced a large explosion.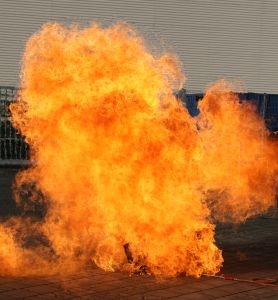 Our Massachusetts workers' compensation attorneys understand that the Middleton facility returned a number of severe deficiencies in the company's ability to manage its work site program. This program is a list of procedures and requirements that company members must follow in an attempt to efficiently address dangers that are associated with the company's processes and equipment. Work in the plant involves a massive amount of hazardous chemicals. An efficient safety routine is a key for safety in this industry.
The March explosion happened when a valve on a line transfer housing acetone was left open. Because the valve was open, acetone vapors that are flammable were released and caught fire. The cause of the flame has been undetermined thus far.
When a company does not eliminate hazards on the job and does not accurately access potential hazards on a work site, injuries can result and lives can be lost. Safety measures can be taken and federal regulations should to considered by when preparing a work area for employees.
OSHA discovered that the Middleton facility officials neglected to take the proper safety precautions to address the dangerous conditions that resulted in injuries to the workers.
Jeffrey A. Erskine, the OSHA area director for Massachusetts says that he is thankful that the accident took place when there were only a few workers in the plant. The outcome could have been much different is the explosion happened during peak work hours and could have potentially killed someone.
Violations that OSHA found during its inspection of Bostik Inc.:
The procedural safety information was incomplete.
The company's analysis of hazards related to the process did not address any previous incidents with a potential for catastrophic results, including incidents where forklifts struck the equipment.
Safety training was not offered to employees.
The company did not consider human factors, including operator error, fatigue resulting from overworked employees and lack of communication between shift changes for accident causes.
Blocking exits.
A number of electrical hazards.
Failure to ensure that a forklift and electrical equipment, including light fixture, a motor and switches were approved to be used in Class 1 hazardous locations where flammable gases or vapors are located.
Because of all of these discoveries, the company has received nearly 10 willful citations with proposed fines totaling nearly $650,000. The company received 41 additional serious citations that were accompanied by nearly $290,000 in proposed fines. Illinois National Insurance Co., the workers' compensation carrier that insured Bostik, should be taking care of the compensation for the injured employee, OSHA reports.

If you or someone you love is faced with an injury at work, contact Jeffrey Glassman Injury Lawyers to help you file a claim or to have the intricacies of your case explained to you. Call (617) 777-7777 for a free no-obligation appointment.
More Blog Entries:
Fatality Report Indicates Fall Accidents are Most Common Cause of Worker Deaths at Massachusetts Job Sites in 2010
September 14, 2011
Boston Injured Workers Filing a Claim Should Contact an Experienced Workers' Compensation Law Firm
September 13, 2011