In Martz v. Hills Materials, a case from the Supreme Court of South Dakota, claimant injured his shoulder in 2000 while working at a mining company. Claimant filed a workers' compensation claim and received benefits for the work-related injury.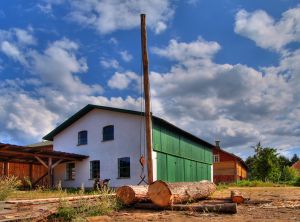 In this accident, his employer was self-insured, accepted liability for workers' compensation, and paid for all medical bills related to his rotator cuff surgery and lost wages associated with his disability rating.
Two years later, claimant injured the same shoulder while working for another employer. This employer ran a sawmill. While working, claimant reported he felt a pop in his left shoulder while moving a log. Claimant filed again for workers' compensation benefits and employer initially paid benefits but later terminated his benefits.

In Martz, the court looked at the issues of whether employer was allowed to deny benefits after it had been paying them for four years and whether the second employer remained liable when employer's doctors opined the major contributing cause of this injury was the prior on-the-job injury. On the other hand, claimant's doctor opined the second accident contributed independently to his current disability.
As our workplace injury attorneys in Boston understand, cases for injured workers who already suffer from a pre-existing condition may involve additional litigation to determine all contributing causes to the injury.
After the last evaluation that the prior injury was a major contributing cause, the employer requested yet another causation opinion, and, in this opinion, the 2000 accident resulted in a ten percent impairment rating, and the second accident resulted in a five percent impairment rating. While it is not entirely clear why, benefits were then terminated.
At this point, the doctor who assigned a total of 15 percent disability rating was asked to clarify whether the ten percent rating included loss of range of motion. The doctor refused to answer this question but opined the five percent figure included loss of range of motion.
Claimant decided to pursue his claim for workers' compensation, asking sawmill owner be responsible for five percent of his disability rating and for medical bills that had not yet been paid. It was agreed in a telephone conversation and later confirmed via email sawmill owner would pay the medical expenses. Payments for that injury resumed.
However, sawmill owner questioned whether employment between working at the mine and the sawmill also contributed to the shoulder injury. It was determined that it did not. Sawmill owner was skeptical of this opinion and requested an independent medical examination. As result of this examination, plaintiff petitioned that both employers should be liable for his disability. The mine employer was granted summary judgment on grounds statute of limitations had expired. Claimant did not appeal this ruling.
Claimant appealed sawmill owner's insurance company's denial of benefits on grounds it should be estopped (precluded) from denying liability, since it had already accepted liability in 2006.
On appeal, the court concluded Sawmill owner was not estopped from such a denial. The reason is estoppel is a quasi-contract remedy in which one party makes a promise and the other party relies on said promise to his detriment. In this case, court of appeals did not find a promise was ever made by insurance so estoppel did not apply.

If you are injured on the job in Massachusetts, call Jeffrey Glassman Injury Lawyers for a free and confidential consultation to discuss your workers' compensation claim: (617) 777-7777.
More Blog Entries:
Man Electrocuted in Construction Site Accident, August 25, 2014, Boston Workers' Compensation Lawyers Blog