The U.S. Department of Labor is suing a Boston construction company for allegedly retaliating against an injured worker by having him arrested by immigration authorities. Our Boston work injury attorneys know immigrants are among the most vulnerable members of the workforce. Often working dangerous jobs, for law pay, off the books with no benefits. We want you to know our laws offer both financial help and legal protection if you suffer injury on the job, regardless of your immigration status.
The complaint was filed last month with the U.S. District Court for the District of Massachusetts and alleges Tara Construction Inc. caused an employee to be arrested and detained by U.S. Immigration and Customs Enforcement after the man was injured in a fall on the job. He was seriously injured after falling from a ladder in March 2017 and the Occupational Safety and Health Administration initiated an investigation into the workplace accident. Shortly thereafter he was arrested by immigrations officials as he left the work office.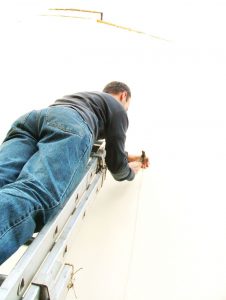 Section 11(c) of the Occupational Safety and Health Act protects workers who report an injury to an employer or who cause an OSHA inquiry. Law enforcement accounts indicate a company representative told a police officer when the employee would be present and that there were no objections to the arrest. Text messages back up those claims, according to the government's case.
This case will likely hinge on whether the company tipped law enforcement to the employee's immigration status, as the company will no doubt argue it simply cooperated with law enforcement. Our Boston workers' compensation lawyers know such cases of attempted retaliation are not uncommon, which makes it even more critical to assert your rights under the law at the outset of an injury on the job. Whether you are protected by workers' compensation insurance or have to pursue a personal injury lawsuit, finding qualified legal help at the start of your case is the best thing you can do to protect your rights.
In this case, OSHA's Whistleblower Protection Program concluded there was enough evidence to cite the company for retaliation against an employee for protected activity.
"The OSH Act prohibits retaliation against employees for exercising their workplace rights, regardless of the employees' immigration status," said Regional Solicitor of Labor Maia Fisher. "This case demonstrates that through legal action the Department promotes safe and healthful workplaces free from unlawful retaliation."
Workers' Compensation & Whistleblower Protections
The company could be liable for paying backpay, as well as interest and compensatory and punitive damages. OSHA protects employees who have been injured or who otherwise report a work injury or dangerous condition.
OSHA's whistleblower protection provisions are outlined in 22 statutes and protect employees who report violations, including 29 U.S.C. §660 Occupational Safety and Health Act (OSH Act), Section 11(c), which covers most of the U.S. workforce. Other statutes offering whistleblower protections include the Affordable Care Act, Asbestos Emergency Response Act, FDA Food Safety Modernization Act, National Transit Systems Security Act, Safe Drinking Water Act, and the Sarbanes-Oxley Act, a financial security act passed in the wake of the Great Recession.  Some statutes offer workers additional protections in certain industries, including the Federal Railroad Safety Act, Surface Transportation Assistance Act and the Seaman's Protection Act.
Massachusetts Work Injury Help for Immigrants
Your immigration status does not matter when it comes to being injured on the job. Under Massachusetts law, employees injured on the job are almost always entitled to workers' compensation benefits, regardless of immigration status. However, in far too many cases companies will hire contract workers, day laborers or temporary employees to avoid having to provide workers' compensation benefits. Our Boston work injury lawyers note that appears to be the case in this instance, as WBUR News reports the company did not have workers' compensation insurance in place at the time of the accident.
The Massachusetts Workers' Compensation Act (M.G.L. Ch. 152)  provides injured employees medical benefits and lost wages after an in the job. In exchange, employees forfeit their rights to sue for additional injury compensation in most cases. Employers who do not provide workers' compensation coverage may be held strictly liable for resulting injuries.
WBUR News reported Boston Mayor Marty Walsh is asking questions of his police department in the wake of the Tara Construction incident. Two Boston detectives were involved in the arrest in cooperation with ICE. The ACLU has made a public records request for information about any other cooperative immigration enforcement efforts between ICE and the Boston Police Department. In an interview, Mayor Walsh said Boston police should not be enforcing immigration laws unless a serious felony is involved.
Immigrants are particularly vulnerable to injury while working in the construction industry. The Census of Fatal Occupational Injuries found immigrants were 15 percent more likely to be fatally injured, which is significant considering construction is already the nation's deadliest occupation. Two-thirds of immigrants killed on the job were born outside the country. Exacerbating the risks is the underreporting of injuries, a common lack of safety training and equipment, language barriers and a culture too often not used to having rights in the workplace.
This case offers a number of lessons even for those employees whose immigration status is not in question. Too often, employees fail to seek qualified legal help because they don't believe their injury is serious enough, or because they don't understand all of the issues that may arise. Is your employer insured? It could be months before you realize the bills are not getting paid. Can you count on keeping your job if you are out a lengthy period of time? Are you certain your injury will not reoccur or become more debilitating over time?
We believe injured workers should have immediate access to experienced legal help. By asserting your rights at the outset of a claim, you will stand the best chance of making a complete physical and financial recovery. And, as this case illustrates, protections are in place in the event your employer has a problem with it.
If you or someone you love has been injured a Boston work accident, call for a free and confidential appointment at (617) 777-7777.