In Hillmann v. City of Chicago, a workers' compensation case for the United States Court of Appeals for the Seventh Circuit, claimant had begun working for the city's parks district in 1973.  After he worked in the department for about five years, he took a different job for the city as a truck driver in the sanitation department.  It is fairly common for state, local, and even federal government workers to move back and forth between various departments during the years in which they are employed.   The reason for this is because it is much easier to get a government job once you already have one, since many agencies will look internally to fill openings before looking at the general public.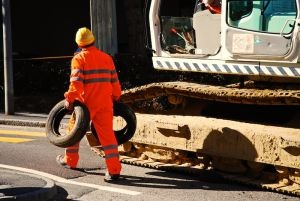 About 11 years after he first started working for city, he started to suffer from cervical radiculopathy, and doctors determined that his condition was work related.  This is essentially a condition of the spine that causes pain in the back and arms and legs and other parts of the body. It is often very difficult for a person with radiculopathy to work a normal eight-hour day and do the tasks necessary for many jobs.  However, this does not mean that your employer, or more commonly their worker's compensation insurance company, will recognize this fact and make a fair award of workers' compensation benefits.  It is for this reason that is best to consult with an experienced workers' compensation attorney, so you will have somebody on your side who is fighting for your right to a full and appropriate award of benefits.
About ten years after that, he entered into what is known as an accommodation agreement with his employer.  This is an agreement, required under the Americans with Disabilities Act (ADA), that means, whenever possible, the employer must work with disabled employees to allow them to work even though they have a disability. This is to prevent employers from discriminating against disabled workers. As part of this agreement, he was reassigned to a time keeper that was thought to be a much less physically demanding job.  However, according to court records, he never performed all of the tasks listed in the job description, but he did not do everything that was required and what his supervisor told him to do.   A few years later, his supervisor gave him job tasks that required him to use his bad arm, and he could not do the work, and his position was ultimately terminated, and he was no longer employed.
He argued that he was targeted because he had claimed workers' compensation and took advantage of his rights under the ADA act.  It is not lawful for an employer to retaliate against an employee for filing a workers' compensation claim, nor is it allowed to fire or otherwise discipline that employee for taking advantage of rights under ADA.
However, in this case, the jury found in favor of claimant with respect to his workers' compensation claim, but not with respect to his ADA claim.  Claimant appealed, and the court found that there was not sufficient evidence with respect to the ADA claim.
If you or someone you love has been injured a Boston work accident, call for a free and confidential appointment at (617) 777-7777.
Additional Resources:
Hillmann v. City of Chicago, August 23, 2016, United States Court of Appeals for the Seventh Circuit
More Blog Entries:
OSHA's New Injury Reporting Rule and Employee Drug Testing, July 14, 2016, Boston Workers' Compensation Lawyer Blog