You might not think that working in a clothing store could be all that dangerous. That's not the case for workers at the Forever 21 in Burlington. According to officials with the Occupational Safety and Health Administration (OSHA), the Forever 21 store at the Burlington Mall was slapped with two repeat citations. These citations came with fines totaling nearly $60,000.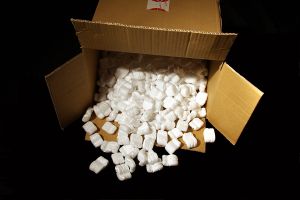 The retail chain, based out of Los Angeles, reportedly exposed employees to exit access hazards and struck-by risks. These dangers were discovered.after an inspection last December.
Our Burlington workers' compensation attorneys understand that stock rooms can get pretty messy. There is no reason to put workers at risk for a potentially serious accident just because you've got a lot of inventory. There are ways to properly and safely store everything in the workplace. It just takes a little bit of time, effort and thought to get it done the right way.
According to incident reports, there were piles and piles of stock in the store's backroom. These boxes were not secured to anything and could have easily fallen or collapsed. In addition to this safety issue, officials observed that the store's emergency exit route was blocked by a number of boxes as well. If there was a fire, those workers were not getting through and out to safety very quickly.
This isn't the first time this company was cited for these problems. In 2011, the company received the same violations and warnings for its store in Bridgewater, New Jersey. You get a repeat violation when you're busted with the same hazard more than one within a five-year period.
"Improper storage of stock and inadequate exit routes can and do put workers at risk of serious and severe injury," said Jeffrey A. Erskine, area director for OSHA.
Whether you have one or fifty workplaces within your company, you're required to make sure that each and every one of them is safe for all employees. You want to make sure that there are no dangers dangling above their heads. Whether it's boxes or steel hanging from a crane, you want to make sure that the workplace is under control, that there are procedures in place to help to prevent these types of accidents and that employees are provided with the proper safety equipment and training to complete their duties.
In 2011, there were more than 470 U.S. workers who were killed in struck-by-falling-object accidents in the U.S. According to the U.S. Bureau of Labor Statistics, these kinds of accidents accounted for roughly 10 percent of all workplace fatalities.
If you feel like you're in danger on the job for any of these kinds of accidents, you're asked to speak up. You have a legal right to be concerned and proactive with your safety. Speak with a manager, a supervisor or an owner if you feel there are any risks for stuck-by accidents at your place of work.

If you or a loved one has been injured in a work accident in the Greater Boston area, contact Jeffrey Glassman Injury Lawyers for a free consultation. Call (617) 777-7777.
More Blog Entries:
Massachusetts Construction Vehicle Accident Critically Injures Worker, Massachusetts Workers' Compensation Lawyers Blog, February 17, 2013
Keeping Workers Safe from Hypothermia, Massachusetts Workers' Compensation Lawyers Blog, February 11, 2013