Our workplace accident lawyers understand that sometimes clients may be able to file a civil lawsuit in addition to their workers' compensation claim.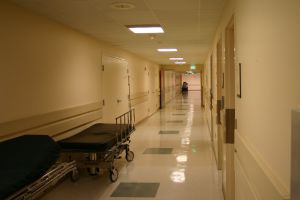 A story from 7 News Boston discusses a truly horrific rape and stabbing of a teacher while she was at work. This teacher was employed by the Department of Corrections in Arizona. She was teaching a class at a prison unit that houses sex offenders. The prison allegedly did not provide any guards for the protection of the teachers or issue the teachers any type of safety equipment.
After teaching a class, the teacher was raped and stabbed, according to reports. The alleged assailant has been charged with rape, kidnapping, assault and other charges. The victim has filed for workers' compensation to compensate her for the physical and mental and pain she has suffered since her attack.

In addition to the workers' compensation claim, the victim's lawyer indicates that that she has filed a lawsuit against the Department of Corrections with claims of $4 million in damages. Her damages are likely to include pain and suffering, loss of wages, and the negligent infliction of emotional distress, under various theories of negligence.
Under normal circumstances, an employee who is injured on the job will be required to file a workers' compensation claim rather than filing a civil suit. In this case, the plaintiff's attorney is asserting that the Department of Corrections was so egregiously negligent in its failure to protect his client that he is entitled to file a personal injury suit in addition to the workers' compensation claim.
Even though the general rule is that a workers' compensation claim is the exclusive remedy for an employee who was injured on the job, Section 28 of Chapter 152 (Workers' Compensation Section) of the Massachusetts General Laws provides a provision for serious misconduct.
Under the willful or serious misconduct provision, if the employer's conduct that led to the injury was of such an extreme nature, the employee may be entitled to double the normal workers' compensation benefits. In some cases, the worker may be allowed to file a separate civil lawsuit. This is essentially what the teacher is relying upon to file her suit, though she is using another state's workers' compensation statute.
In that case, it is the plaintiff's contention that leaving her alone and unarmed with known sexual predators is of such a willful or serious nature that it rises to the level or allowing a separate civil action.
It has been reported that since the assault happened, the Department of Corrections has issued pepper spray to its teachers working with sexual offenders. The prison has not commented further and it is not known whether the prison is ensuring that corrections officers are stationed in such a manner as to protect the teachers.
This is a very complicated area of law and is not the norm in a workers' recovery action. As your Boston workers' compensation lawyer can explain, if you do recover beyond what is provided by your employer's workers' compensation carrier, you may need to reimburse the carrier to some extent.

If you are injured on the job in Massachusetts, call Jeffrey Glassman Injury Lawyers for a free and confidential consultation to discuss your workers' compensation claim: (617) 777-7777.
Additional Resources:
Arizona teacher files $4M claim in prison rape, July 17, 2014, 7 News Boston
More Blog Entries:
Dollar-Tree Facing OSHA Fines for Safety Violations, March 7, 2014, Massachusetts Workers' Compensation Lawyers Blog