An employee was recently killed at a large Chicago-area baking company that produces many of the hot dog buns, hamburger buns and bread products consumed in the U.S.
According to the Chicago Sun-Times, this worker had been employed at the company for the past six years.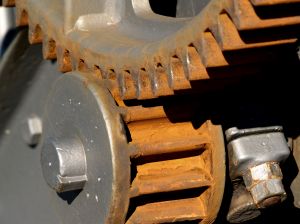 He was trying to check the oil on a machine known as a bakery loader after service had been performed on the equipment. He placed his head into the gearbox area to view the oil level, but the machine guards had not been reinstalled after being serviced. A gear arm rotated without warning and struck him in the head, trapping it between the gear arm and the metal frame.
After the accident, the local coroner determined that the cause of death was blunt force trauma, and the death was accidental. The U.S. Occupational Safety and Health Administration (OSHA) performed a mandatory inspection and found six serious safety violations. These other violations were considered amputation hazards, and involved the tag-out and lockout procedures for various machines. A lockout system allows a worker to lock the controls of a machine when he or she is working an area that would result in injury if the machine is started by an unwitting co-worker
For example, if a worker needed to step into a cardboard compactor to remove debris, he would no longer be visible from outside the machine. If someone turned on the machine, the first worker would likely be crushed and killed by the compactor. To prevent this type of accidental injury, workers are provided with a tag or lock to place on the machine's control and that worker takes the keys with him or her into the machine so that no one can run the machine at that time.
As our workers' compensation attorneys in Boston understand, most people think of these benefits as payment after a job injury, rather than a job death. However, in the event of a fatal on-the-job injury, surviving family members can apply for workers' compensation death benefits to be paid into decedent's estate and distributed to surviving heirs.
Workers' compensation death benefits awards are designed to cover the costs of any medical bills associated with the worker's injury or illness, funeral bills, and wages that would have been paid had the worker not been killed. This money is essential for the support of his or her surviving family. Death benefits may be paid as a lump sum or in monthly or other installments.
One thing surviving family members can do to help maximize a workers' compensation death benefits award is to contact an attorney who regularly handles these types of cases as early in process as possible. Even if employer is not contesting a death benefits claims, and employer's workers' compensation insurance company is willing to pay, there may a disagreement as to how future unpaid wages should be calculated. Employers may try to claim that decedent did not have as many years left to work as his or family believes worker had.
An experienced attorney can help you argue for higher benefits.
If you are injured on the job in Massachusetts, call Jeffrey Glassman Injury Lawyers for a free and confidential consultation to discuss your workers' compensation claim: (617) 777-7777.
Additional Resources:
Baking company fined after worker fatally caught in machinery, October 30, 2014, Chicago Sun-Times
More Blog Entries:

Man Electrocuted in Construction Site Accident, August 25, 2014, Boston Workers' Compensation Lawyers Blog