According to recent news from the Taunton Gazette, a group of workers and family members gathered at the steps of the Massachusetts statehouse in downtown Boston to fight for workplace safety measures for construction sites.  They were also there to mourn the more than 60 construction workers who died in fatal workplace accidents last year.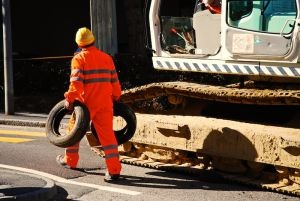 Those in attendance erected a temporary memorial wall and covered the wall with flowers and read the names of the victims aloud as a bagpiper played at the memorial ceremony.  Among those there to support the workers and move for change in terms of worker safety was the father of a construction worker who died on the job in Taunton.
His son died last September when he was strapped to a steel beam with a safety harness when a crane crashed its boom into the beam.  He died as a result of the injuries he sustained in the Taunton construction accident. At first, the construction company tried to say that the workers did not follow proper safety protocols and they were at-fault in the deadly construction accident.
However, after a significant legal dispute and hearing, it was determined that the workers followed all relevant safety protocols, and the accident still occurred.  What this means to those who took to the statehouse steps is that there must be serious changes to the safety regulations, and companies that put employees at risk should pay for this recklessness.
To make matters worse, if that is possible, this was not even the only construction worker to die on the job in Taunton, Massachusetts in that period of time. Around the same time, a 48-year-old worker was inspecting a smoke stack on a construction site when a lift of some sort that was not properly secured fell over and landed on the worker.  His family was there, as well, to mourn their loss and speak out for positive change in terms of worker safety for construction employees.
One thing to keep in mind is that it is not necessary to prove fault in order to collect workers' compensation.  The reason for this is because in the Commonwealth of Massachusetts, workers' compensation is a no-fault system where it is only necessary to establish that worker was on the job at the time of the accident, and the accident resulted in a qualifying disability or death. While it may at first seem strange, even when a worker is killed on the job, workers' compensation is the appropriate remedy in the vast majority of cases.
In a fatal workers' compensation case, the surviving spouse or children will be required to open an estate at the probate and family court, so they can receive the workers' compensation benefits.  This can include funeral expenses, lost wages, and past medical expenses.  In a workers' compensation action, pain and suffering damages are not available as they are in a civil personal injury lawsuit; however, it should much easier for a worker to collect the benefits that are available.
If you or someone you love has been injured a Boston work accident, call for a free and confidential appointment at (617) 777-7777.
Additional Resources:
Father of construction worker killed in Taunton speaks out, April 27, 2016, Taunton Daily Gazette, By Gerry Tuoti
More Blog Entries:
Opioid Use in Boston Workers' Compensation Cases Posing Serious Health Threat, April 10, 2016, Boston Workers' Compensation Lawyer Blog