In 2011, a Walt Disney World ride mechanic was killed on-the-job while making repairs on an attraction at the park's Animal Kingdom. According to a recent news article from Click Orlando, employee was performing work on the small roller coaster when another employee released a test car while employee was still on the tracks. Employee was 52-years-old at the time of his workplace death.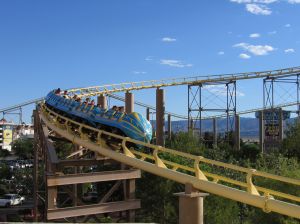 Family members have recently filed a lawsuit in connection with employee's death, arguing defendant was negligent in performing a test run while employee was still on the tracks. They also allege employee's supervisor did not properly warn him that a car was about to release, which would have allowed him to clear the tracks in a safe manner before being struck by the incoming car.
Plaintiff's lawyers are technically alleging more than mere negligence, as they contend employee's supervisor either was not paying attention, or actually "knew where [employee] was and launched [the car] anyway."

One the other hand, attorneys for defendant are arguing plaintiff's claim should be dismissed. They first claim supervisor did issue a warning prior to the test car leaving the station, and these cars make a lot of noise, so the employee would have knowledge the car was coming toward his location and should have been able to move out of the way before it hit him. This is referred to as the last clear chance to avoid injury doctrine.
However, defendant's main argument is employee's family should collect workers' compensation benefits and thus be precluded from filing a separate civil negligence lawsuit against defendant. Plaintiffs are arguing defendant's alleged conduct was severe enough to excuse them from the law that says they can only collect under the workers' compensation system.
As our Boston workers' compensation attorneys can explain, if an employee was injured or killed on the job or suffered a work-related illness, he or she is eligible for to petition the workers' compensation system. This is an exclusive remedy, meaning he or she will be barred from filing a separate personal injury lawsuit in the Superior Court in Massachusetts. It should be noted, it does not matter whether employee or employee's family actually files a claim for workers' compensation benefits, because it only matters employee was eligible to file for workers' compensation benefits to effectuate the ban on a civil suit.
There are two main exceptions to the single recovery law. The first, and this is the much more commonly used exception, is when an employee was killed or injured at work due to negligence of a third party. The most common example would be when an employee is driving a car as part of his or employment and is hit by a negligent third party driver. The employee can collect workers' compensation benefits and also file a lawsuit against driver. However, there will be a requirement to reimburse workers' compensation insurance company.
The second exception, and the one claimed in this case, involves conduct by employer that is allegedly so negligent (willful and wanton) as to show a complete disregard for worker safety. If this very high standard can be satisfied, the employee may file a suit against employer rather than relying on workers' compensation.
If you are injured on the job in Massachusetts, call Jeffrey Glassman Injury Lawyers for a free and confidential consultation to discuss your workers' compensation claim: (617) 777-7777.
Additional Resources:
Disney seeks to get lawsuit in worker's death dismissed , May 11, 2015, Click Orlando
More Blog Entries:
OSHA Fines Welding Company in Connection with Deadly Boston Fire, October 15, 2014, Boston Workers' Compensation Lawyers Blog