In a recent East Boston work accident, a man was killed by a 12,000-pound beam. According to the Boston Globe, the beat fell onto the man at Boston Bridge & Steel Inc., located on Marginal Street just after 6:00 p.m. He was pronounced dead at the scene.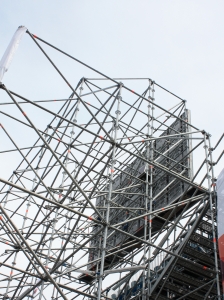 "A large piece in an arch shape shifted on the worker, trapping him underneath," said Steve MacDonald, a spokesman for the Boston Fire Department.
Our workers' compensation lawyers in Massachusetts note officials have concluded there was no foul play involved in this accident, but that doesn't mean there was nothing that could have been done to prevent it. We also understand that this is the second accident involve an industrial worker death in five days in the city of Boston. Just days before, another was killed at a Downtown Crossing work site. This worker was serious injured by a scissor lift at roughly 2:00 p.m. and later died of the injuries.

Out of close to 4,000 worker fatalities in private industry in calendar year 2012, nearly 800 or approximately 20 percent occurred in the construction industry. The top causes of worker deaths on construction sites were falls, followed by struck by object, electrocution, and caught-in/between. These "Fatal Four" were responsible for nearly three out of five (nearly 60 percent) construction worker deaths in 2012. Eliminating the Fatal Four would save more than 400 workers' lives in America every year.
Struck-by injuries occur when a worker is comes into forcible contact with a flying, falling, swinging or rolling object. Struck-by injuries are the second highest cause of fatalities among construction workers.
Approximately 75 percent of struck-by fatalities involve heavy equipment such as trucks or cranes.
You are at risk from falling objects when you are beneath cranes, scaffolds, etc., or where overhead work is being performed.
Despite efforts by the industry and OSHA, injuries and even fatalities are still frequent occurrences on construction sites. In fact, construction workers face some of the highest risks. Employers must work to ensure their construction sites are in compliance with federal regulations and standards. You should also provide your workers with the proper safety training and your job site with the proper signage to further ensure their health and well-being.
There are many dangers that workers encounter when they work at construction sites. Accidents can have tragic outcomes, especially when families are left with the devastating loss of a loved one.
If you or a loved one has been injured on the job in Massachusetts, call Jeffrey Glassman Injury Lawyers for a free and confidential consultation to discuss your workers' compensation claim– (617) 777-7777.
More Blog Entries:
OSHA Lists Top Workplace Violations of 2013, Massachusetts Workers' Compensation Lawyers Blog, December 4, 2013
Fencing Company Fined for Endangering Massachusetts Employees, Massachusetts Workers' Compensation Lawyers Blog, December 1, 2013