According to a recent news report from the Joliet Patch, an employee who worked in deli department of a big box retailer filed a lawsuit after he was allegedly injured on the job.  His injury occurred when a 50-pound box of frozen chicken reportedly fell on him.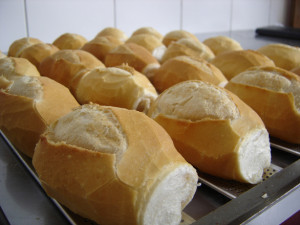 According to his complaint, he was taking these heavy boxes down from a shelf in the freezer when a handle broke, and the box landed on him.  He further alleged that these boxes were manufactured with handles on each side and one of the handles was defective, which was the reason it broke, resulting in his personal injury.
As our Boston workers' compensation attorneys can explain, when an employee is injured on the job, th worker must file a claim for workers' compensation if he or she is to recover for past medical bills, future medical expense, rehabilitation expenses, and for any lost wages. The reason for this is because the Workers' Compensation Act in Massachusetts provides for an exclusive remedy.
This means that if you are injured on the job or become ill as result of your employment, you cannot file a lawsuit against your employer in the vast majority of cases.  Instead, you can file for workers' compensation.  It should be noted that this does not mean you can elect to forgo workers' compensation and sue instead.  The test is not whether you actually file for workers' compensation compensation, but whether you were eligible to apply for benefits.
If you are wondering why an injured employee would want to sue in stead of filing a workers' compensation claim, it is because in a civil lawsuit, that plaintiff could ask for additional damages like pain and suffering and specials.  However, in a civil case, you need to prove negligence. In a workers' compensation claim, you only need to show that you were injured on the job and are an employee within the meaning of the statute.
However, there are two exceptions to the rule that you can't file a lawsuit in court.  The first, and the one seen in this case involving the alleged frozen chicken injury, is when the defendant is a third party.  This means someone other than your company.  In this case, he is suing the poultry producers for making a defective box.  He is not suing his company, so that is permissible as a third claim. While the article does not mention this, it is likely he already filed a workers' compensation claim with his employer.  It should be noted that his complaint contains unproven allegations, and the defendant will contest these allegations in court.
Another thing to keep in mind is that if you recover workers' compensation benefits and then recover in a civil lawsuit, you will be required to reimburse the insurance company for any benefits paid out of the lawsuit damages award.  While this may seem unfair, this is because the law disfavors plaintiff's getting what is known as double recovery. They goal is to make plaintiffs whole again, but not to give them a windfall.
If you or someone you love has been injured a Boston work accident, call for a free and confidential appointment at (617) 777-7777.
Additional Resources:
Deli Worker Injured By 50 Pounds of Frozen Chicken: Lawsuit, December 15, 2016, By Joseph Hosey, Joliet Patch
More Blog Entries:
Parr v. Breeden – Supervisor Co-Workers Not Liable Under Workers' Comp Exclusive Remedy, July 3, 2016, Boston Work Accident Lawyer Blog