There is no question that construction workers toil in one of the most dangerous industries in the nation. Each year, many construction workers are injured, and some are killed, in accidents involving falling off roofs and other high structures, heavy machinery accidents, and a variety of other serious accidents involving the use of power tools.   We also tend to see a lot of vehicle accidents on construction sites, due to the use of over-sized vehicles, which often have poor visibility.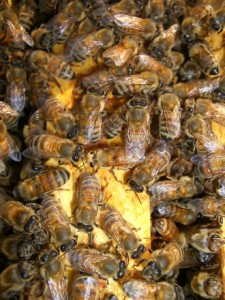 However, from time to time, we see more unusual types of accidents involving construction workers, and some of these accidents can also prove fatal. According to a recent news article from the Press Enterprise, a construction worker was killed on the job in a bee attack.
Witnesses say the crew was working near a Wal-Mart, just prior to 10 a.m., when they managed to disturb an underground beehive. It is believed the workers were grading the area at the time of the accident to prepare the surface to construct a parking lot, when their digging equipment ran into a sprinkler control valve that was buried under the surface. The valve housing is likely to have contained the hive, which was destroyed by the workers.
Once the beehive was destroyed, the angry bees swarmed out and began attacking at least three of the construction workers. Witnesses say the workers were seen running in every direction, and at least two of them were rolling violently on the ground trying to shake the bees off themselves. People saw hundreds of bees covering each of the workers and stinging them repeatedly.
One of the workers was able to get to a hose attached to a water truck and began spraying the men with water, which caused the bees to stop attacking. Following the attack, the bees calmed down and returned to the underground hive without any further incident.
When first responders arrived, they treated all three men and took them to a local trauma center. One of them died as a result of his injuries, and another was listed in serious but stable condition. The third worker attacked by the bees was treated and released. The construction company arranged for a local bee company to come and deal with controlling and removing the hive.
First, our Boston workers' compensation attorneys would like to extend our sympathies to the victims and their families of this horrific work-related accident. We know that cases involving such a traumatic experience can leave victims with emotional and mental injuries in addition to psychical injuries. Post-traumatic stress disorder (PTSD) may be common after something of this nature. If you have any mental health issues as a result of an on-the- job injury or illness, you should discuss them with your workers' compensation attorney as soon as possible.
You should also make sure to report any of these mental health issues as soon as possible, so there will be a record of your injuries. Many people feel that they should not say anything, because they are concerned it might lead to their termination from employment; but, as your attorney can explain, an employer is not permitted to retaliate against an employee for reporting an injury or illness.
If you are injured on the job in Massachusetts, call Jeffrey Glassman Injury Lawyers for a free and confidential consultation to discuss your workers' compensation claim: (617) 777-7777.
Additional Resources:
RIVERSIDE: Construction worker killed in bee attack ID'd as L.A. man (UPDATE 3), August 4, 2015, The Press Enterprise, by PETER SUROWSKI AND RICHARD BROOKS
More Blog Entries:
Frith v. WSI – Proving Worsening Condition Is Related to Work Injury, May 27, 2014, Boston Workers' Compensation Lawyers Blog