When a Connecticut construction worker suffers serious injuries on a jobsite in Massachusetts, which state's law applies to any ensuing litigation?
The Massachusetts Appeals Court recently considered this issue.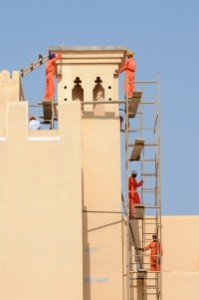 The case focuses on workers' compensation insurance. On July 6, 2020, a three-judge appeals court panel held had the construction worker filed a negligence suit in Massachusetts Superior Court against out-of-state contractors he blamed for his work injury, the worker would be able to sue under Massachusetts' three-year statute of limitations, even though he lives in Connecticut.
The panel called the issue "straightforward."
One lesson that can be learned from the court's ruling is that lawsuits—especially ones that involve out-of-state parties and incidents—can be complicated. A skilled construction site injury attorney can analyze the specific facts of your case and advise as to where the case should be brought to achieve the best possible outcome.
Construction Worker Seriously Injured in 18-Foot Fall
Here's a quick look at the background information as provided by the appeals court panel: Dimeo Construction, a Rhode Island company, was hired to perform construction work at Grafton High School, in Massachusetts.
Various subcontractors were involved in the construction project. Shepard Steel Co. Inc., a Connecticut company, was to perform decking work, and Champion Steel, another Connecticut company, was to perform steel construction work on the decking.
Connecticut resident Stanford Dulaire, doing business as Connecticut Reliable Welding LLC, was contracted to perform metal work on the school. Reliable Welding employee James Doughty performed decking work on the project. Doughty lived in Connecticut.
Doughty was working on a platform on May 17, 2011, and wearing a retractable life line that allegedly had been provided by Dimeo, Shepard or Champion. The life line failed and Doughty fell 18 feet to the ground and suffered serious injuries.
Work injuries can be caused by personal protective equipment that's defective, broken or hasn't been properly maintained. The Occupational Safety and Health Administration has information on Fall Protection in Construction available on its website.
Pacific Insurance Co. Ltd., as the workers' compensation insurer for Dulaire, paid Doughty workers' compensation benefits under the Connecticut's workers' compensation statute.
Lawsuit Accuses Contractors of Negligence Related to Faulty Life Line
Pacific and Dulaire sued Dimeo, Shepard, Champion and a company that had marketed the life line on May 16, 2014. Pacific and Dulaire alleged that the defendants acted negligently in supplying, inspecting and using the life line and that their negligence caused Doughty's injuries. They claimed that the defendants were liable for all payments that Pacific had made and would be required to make in the future.
The parties disagreed as to whether Connecticut's two-year statute of limitations for negligence or Massachusetts' three-year statute of limitations applied. Connecticut's statute of limitations had expired in 2013 before Pacific and Dulaire had filed their lawsuit.
The Worcester County Superior Court sided with the defendants and dismissed the lawsuit.
The appeals court panel reversed.
Massachusetts 'Has a Substantial Interest in Enforcing' 3-Year Statute of Limitations
The defendants had argued that Massachusetts doesn't have a substantial interest in the lawsuit because the case is about how Connecticut provides remedies to parties who make workers' compensation payments.
The appeals court panel disagreed.
"Massachusetts has a substantial interest in enforcing its tort law for the full three-year period that the Massachusetts Legislature judged proper to allow individuals to seek redress for injuries caused by negligence in the Commonwealth," the panel said, referencing M.G.L. c. 260, § 2A.
A tort is a legal wrongdoing that one person or business entity commits against another, that is typically remedied through an award of damages.
The defendants also claimed Massachusetts lacked an interest in the case because the only link between the state and the case was the location of the work accident.
"The parties were not visitors passing through our state," the panel said, pointing to the length of the construction project. "Rather, this case involves allegedly tortious conduct doing injury to a worker at a worksite at a Massachusetts high school by defendants contracted to do work there over the course of months."
Even though the plaintiffs and the injured worker reside in Connecticut and the defendants are based out of state, their contacts with Massachusetts "were not transitory," the panel added.
If Worker Had Sued for Negligence, Massachusetts Law Would Have Applied
In addition, the appeals court panel said Massachusetts' three-year statute of limitations would have applied if Doughty himself had sued the defendants for negligence in state court.
"Because the injury was caused by the alleged negligence of the defendants performing work and providing equipment and safety planning for that work, at the construction site in Massachusetts, despite the residency of the injured worker, the Commonwealth would have a substantial interest in litigation," the panel said.
The case, Pacific Insurance Co. Ltd. et al. v. Champion Steel LLC et al., No. 19-P-638 (Mass. Ct. App. July 6, 2020) can be read in full text here.
It's not unusual for construction workers, transportation workers and other types of workers to sustain work-related injuries in states other than those in which they live.
Workers who are injured in work accidents that occur out of state, should consult with an attorney for legal advice. As mentioned above, these cases tend to be complicated, and a lawyer will be able to explain your rights under the law and help develop a legal strategy designed to obtain maximum compensation for your injuries.
To learn more about how the workers' compensation attorneys at Jeffrey Glassman Injury Lawyers can help you with your work injury claim, contact our law firm today at (617) 777-7777 or use our online form.