According to a recent news feature from the Boston Globe, a construction worker was injured when he fell approximately three stories from scaffolding at a jobsite in the Longwood Medical area in Boston.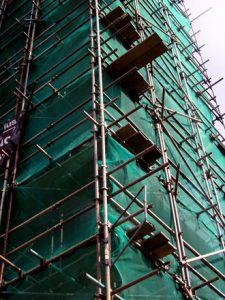 One witness said she was in the area, as she also worked in the neighborhood, when she heard the worker falling more than 30 feet.  She was he was screaming the entire way down and hit other scaffolding on his way, crashing down to the ground.  Once he hit the ground, other members of he crew came running over to help him and called emergency personnel to the scene.
When first responders arrived at the scene, they did what they could to stabilize the injured worker and rushed him to a local level-one trauma center.  This was not a far trip, as he was working on a Harvard Medical School building, and it was right next to Brigham and Women's Hospital.  While it is known that the worker was severely injured in the fall, his exact condition is not known.
Police are not sure why the worker fell.  There is no information that any criminal activity was involved, but it is standard practice for the police to conduct a full investigation.  There is also a good likelihood that the local office for the United States Occupational Safety and Health Administration (OSHA) will get involved because of the fact that a worker was serious injured while working on construction project.  Immediately following the Boston work accident, police closed off the area to vehicles and pedestrian travel so they could conduct their initial investigation.
One thing to keep in mind is that, in a Boston workers' compensation case, it is not necessary to prove that there was anyone at fault for the injury.  The reason for this is because we have a no fault system.  This means that it is only necessary to prove that the worker was an employee within the meaning of the statute, and that he or she was on the job when he was injured.  If we are dealing with an illness, it is only necessary to prove that the illness was work related.
Even if it is determined that that an employer was at fault, it does not generally change anything. The reason for this is because workers' compensation is to be an exclusive remedy. This means that if the worker is eligible to apply for workers' compensation, he or she can only apply for workers' compensation benefits and cannot also file a separate civil personal injury lawsuit.  It does not matter whether the injured worker actually does file a workers' compensation claim, because the test is whether he or she was eligible, not whether they actually did file a claim.
It should be noted that are two exceptions to this single recovery provision.  The first one is rather rare, but it involves a case where the employer has acted in a grossly negligent manner with respect to a worker's safety, going beyond mere negligence.  The second exception, which is much more common, involves a worker who was injured by a negligent third person such as in a car accident.
If you or someone you love has been injured a Boston work accident, call for a free and confidential appointment at (617) 777-7777.
Additional Resources:
Worker seriously injured after falling three stories in Longwood, August 23, 2016, By Andy Rosen, Boston Globe
More Blog Entries:
Scope of Employment in Workers' Compensation Cases, March 29, 2016, Boston Workers' Compensation Lawyer Blog