In Black v Dixie Consumer Products, an accident occurred that seriously injured a claimant.  The accident involved a large truck containing over 40,000 pounds of pulpboard.  Pulp and pulpboard are using in the making of paper and paper products.  The pulpboard was loaded onto the truck in huge rolls, and these rolls were separated by rubber mats that weigh ten pounds each.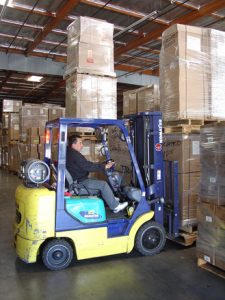 Once he parked at the factory, driver was told by the forklift operated to enter the loading area by a way of a locked cage around the loading dock.  The reason there was a cage was to keep any pedestrians off the loading dock, because it was dangerous.Court testimony showed that it is common practice for the truck driver to get the rubber mats off the truck so the forklift operator did not have to get down from the forklift and go into the truck to get each mat himself, as that would take a long time and require a lot of effort. There was further testimony that the pair had gotten into a rhythm as they unloaded the large paper rolls from the truck.  Forklift operator would grab a roll of paper with his forklift and then driver would grab the next rubber mat.
Things were going well until they got out of rhythm and driver's foot was run over with the forklift.  This caused a serious personal injury that resulted in claimant having to have a below the knee amputation. At this point, claimant filed for workers' compensation and started receiving benefits. In addition to his workers' compensation benefits, he filed a personal injury lawsuit alleging negligence and vicarious liability against the owners of the paper plant.
Defendant filed a motion to dismiss as part of its answer, claiming the case should be dismissed because workers' compensation is the appropriate remedy.   As you can discuss with your Boston workers' compensation attorney, workers' compensation is generally considered a single recovery system.  This means that you cannot file a personal injury lawsuit if you are eligible to collect workers' compensation.  It should be noted that it does not matter whether you actually file for workers' compensation, because the test is not whether you receive benefits, but whether you were eligible to apply.
The court allowed the parties to engage in some discovery, and then granted defendant's motion for summary judgment, and the case against them was dismissed. The court of appeals reversed the dismissal on grounds that a full record was not created.  The question at issue was whether this accident occurred as part of claimant's employment, since he was not technically required to assist with the mats, but was doing so anyway.
The case was remanded and this district court heard more evidence, and this time, found that defendant was not immune from liability as a result of the workers' compensation statute.  The defendant appealed this time, and the court reversed once again, finding there was sufficient evidence to say claimant was injured on the job, because removing the rubber mats was part and parcel with what he was required to do for his employer, and that meant helping to unload the truck.
If you or someone you love has been injured a Boston work accident, call for a free and confidential appointment at (617) 777-7777.
Additional Resources:
Black v. Dixie Consumer Products, August 5, 2016, United States Court of Appeals for the Sixth Circuit
More Blog Entries:
Parr v. Breeden – Supervisor Co-Workers Not Liable Under Workers' Comp Exclusive Remedy, July 3, 2016, Boston Work Accident Lawyer Blog