When a worker is injured on-the-job in Boston, he or she should immediately report the injury to a supervisor or the employer.  And if that worker desires to be compensated for medical bills, the cost of rehabilitation including physical or occupational therapy, and to recover for lost wages due to time away from work, the only course of action in most to cases is to promptly file a workers' compensation claim.
One issue that often arises is when the claimant has a pre-existing condition aggravated by a work-related injury.
Categories of Workplace Injuries in Boston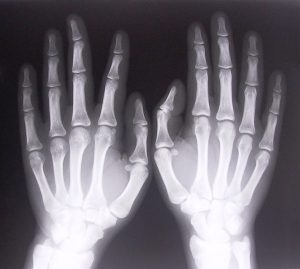 There are two main categories of workplace injuries in Boston workers' compensation cases. One category of workplace injuries involves damage caused by a single traumatic event.  For example, if an employee is working in the stockroom of a big box store, there is a good chance someone else will be be moving around with a pallet jack or forklift.  If the employee is working in the back and a pallet jack runs over his foot, the heavy metal casters with a heavy pallet sitting on top could easily break a toe or other bones in the foot if the worker is not wearing a steel-toed shoe or boot.  This type of accident happens all the time.  The United States Department of Labor (DOL) keeps detailed statistics on pallet jack injuries in the U.S., and as we can see from the data, some of these resulted in amputations.
In some cases an employee will just deal with the pain, and not report the injury to his supervisor, but as our Boston workers' compensation lawyers can explain, these injuries should always be reported immediately.  If the worker does not, and later goes to a doctor, the employer's workers' compensation insurance company may deny claim on grounds that a report was not timely filed. This doesn't mean that if you are in this situation you do not have a valid claim, but you should contact an experienced workers' compensation attorney as soon as possible so no more time is wasted.
This example is one where the claimant had no prior damage related to his injury, and broke his foot while on the job.  In some workplace injuries, however, we have workers who suffer from a pre-existing condition. This can include damage from a prior accident that was work-related, or from a prior injury that had noting to do with work such a Boston car accident. In these cases, the injured worker should still be entitled to workers' compensation so long as the on the job accident made the existing condition worse.
Pre-Existing Conditions and Boston Workplace Accidents
Pursuant to Massachusetts General Laws (M.G.L.) Chapter 152, Section 1(7A), an on the job injury that results in the aggravation of a pre-existing condition will still be compensable under the workers' compensation system so long as the workplace injury was a a major cause of the harm suffered. For example, if a worker has osteoarthritis and is at a job that requires constant lifting and bending, there is a good chance the medical condition will get worse over time due to the strain of the workplace. As long as the employee's workers' compensation attorney in Boston can establish that the workplace activity was a major cause of the aggravation, the employee will still be entitled to workers' compensation.  This is however, not something an employer's workers' compensation insurance carrier will readily agree to, so the employee should make sure he or she has someone on their side to fight for the best possible result the facts and the law will allow.
Diamond v Burlington Free Press
In one recent case, Diamond v. Burlington Free Press, a claimant applied for permanent partial disability benefits (PPD).  While PPD is the term used by most jurisdictions, in Massachusetts, Section 34A of Chapter 152, uses the term impairment instead of disability, but for the purposes of this blog post, the terms may be used interchangeably.
Claimant's injuries involved damage to the C3 and C4 discs of her cervical spine, which is located around the neck. She received these injuries while delivering newspapers for her employer when she was involved in a motor vehicle crash.  In addition to the injuries to her spine, claimant also suffered an aggravation of  her pre-existing carpal tunnel syndrome.  Her claim was that the work-related car accident aggravated her pre-existing medical condition. As discussed above, this is a very common occurrence in Boston workplace accident.
Her employer's worker's compensation insurance company paid the claim with respect to the carpal tunnel syndrome (CTS) and the damage to her cervical spine.  She underwent surgery to release the pinching in her carpal tunnels in both wrists, but the pain from the accidnet did not end there. Once her CTS condition was under control, she started having pain higher up on her neck.  It was the C4 though c6 discs this time which are normally associated with whiplash injuries in car accidents. She again filed for workers' compensation benefits, but her employer's workers' compensation insurance company denied the claim this time on grounds that it was from the car accident damage, which was now to be considered a pre-existing condition.
While this may seem absurd, this goes to show the extent workers' compensation insurance companies will sometimes go to avoid paying a seemingly valid claim. In this case, the court ultimately held claimant was not even trying to modify an old claim, but that this was a new claim timely filed when the injury first presented itself. Therefore, the court reversed the earlier decision denying her claim and remanded the case for further proceedings consistent with its opinion.
This issue arises frequently and can result in the initial denial of claims. This does not mean that employee's claim is not valid, and will not ultimately result in a successful award of workers' compensation but it may require significant litigation by an experienced attorney. Claimant should not however, be worried about paying for an attorney because the system is set up in such a way that there will be no legal fees unless the claimant recovers workers' compensation benefits at the end of the process.
If you are the victim of Massachusetts product liability, call Jeffrey Glassman Injury Lawyers for a free and confidential appointment — (617) 777-7777.
Additional Resources:
Diamond v. Burlington Free Press, October 7, 2017, Supreme Court of Vermont
More Blog Entries:
HVAC Worker in Worcester Dies in Fall Accident, Feb. 13, 2017, Massachusetts Workers' Compensation Lawyer Blog