In the summer of 2010, three teenage workers were hired to help sift out chunks of wet corn in a grain silo in Illinois.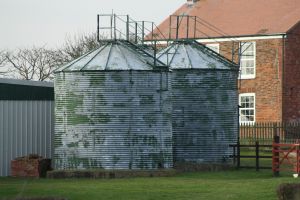 Our Boston workers' compensation lawyers understand that all three were buried alive. Only one survived – and even then, only by inches after a bucket that had been placed over his head by a firefighter to keep the corn from obstructing his breaths.
One of the victims was just 14 years-old.
None were wearing or had been instructed to wear proper safety harnesses for the work they were doing.
It's the kind of accident we think of as being isolated and perhaps only occurring in the Midwest. But the fact is, the grain storage business is booming, according to a recent investigative piece by the Center for Public Integrity. In fact, Massachusetts has several grain storage facilities throughout the state.
CPI, along with a team from NPR, reviewed years' worth of OSHA data and discovered that 180 people had died in grain entrapments in commercial facilities between 1984 and 2012. These sites included bins, but also rail cars and other locations where large amounts of grains are kept.
In cases of death, initial fines proposed by OSHA were in the neighborhood of more than $9 million. Eventually, though, those fines were slashed by nearly 60 percent as the cases were ultimately settled. The five largest fines ever received in such cases ranged from $530,000 up to $1.5 million after being but by 50 to 98 percent.
The case involving the three teens in Illinois resulted in a $200,000 fine – after OSHA reduced it by nearly 65 percent. The family-owned company also agreed to get out of the business and to notify the federal agency if they went back into it so strict oversight controls could be implemented.
For a company that earned $6.5 million in federal farm subsidies from 1995 to 2011. A $200,000 fine seems like hardly a drop in the bucket.
The teens had been hired to break up the rotten hunks of corn that were clogging the flow of the crop into the center of the bin. the 14-year-old reportedly trained the other two older teens. An older farm worker stopped by later in the day to instruct them to stay away from the center of the bin.
There was no safety training. Harnesses were unused in the shed next door.
When one of the farm workers opened one of the holes in the bottom of the bin to help improve the corn's flow, it turned disastrous, with the corn effectively turning into a kind of quicksand. The young trio were quickly swallowed up. The surviving teen said he watched before his eyes as his best friend said the Lord's prayer and then breathed his last.
Among OSHA's finding of numerous safety violations was that the 14-year-old should never have been doing such high-risk farm work in the first place. Federal law prohibits workers under the age of 16 from entering confined environments or spaces. That includes grain storage bins.
OSHA reports that young workers in particular are at grave risk for suffocation hazards in grain bins. In 2010, a total of six workers under the age of 16 were involved in grain bin accidents. Five of them died.
These incidents are especially perilous, usually involving numerous deaths, as more than one worker is often inside the bin. Workers attempt to rescue one another and become trapped themselves.

If you are injured on the job in Massachusetts, call Jeffrey Glassman Injury Lawyers for a free and confidential consultation to discuss your workers' compensation claim– (617) 777-7777.
Additional Resources:
Worker suffocations persist as grain storage soars, employers flout safety rules, March 25, 2013, By Jim Morris and Howard Berkes, The Center for Public Integrity
More Blog Entries:
More Safety Tips for Young Workers in the Restaurant Industry, Feb. 8, 2013, Boston Workers' Compensation Lawyer Blog