We all shop here: Wal-Mart. But unfortunately, the popular nationwide store is guilty of more than offering price-match guarantees and low everyday prices. Wal-Mart Stores, Inc. was recently cited by officials with the Occupational Safety and Health Administration (OSHA) for some serious health concerns, and as a result the company has agreed to improve health and safety at it's close to 3,000 Wal-Mart and Sam's Club stores that are under federal jurisdiction.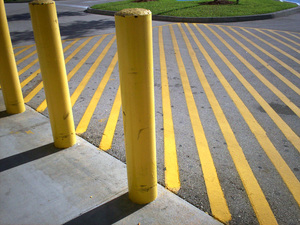 It all started from two enforcement cases in 2011. They were to enhance safety around cleaning chemicals, trash compactors and hazard communications, but also to improve the company's overall health and safety practices.
"This settlement will help to keep thousands of exposed Wal-Mart workers safe and healthy on the job," said Dr. David Michaels, Assistant Secretary of Labor for Occupational Safety and Health.
Our Boston workers' compensation attorneys understand that the smallest of companies up through even the largest need to keep employee and work site safety as a number one priority. It's federal law. Unfortunately, Wat-Mart wasn't standing tall and so was putting its workers at some serious risks for accidents.
With the new settlement between Wal-Mart and OSHA, the company will not keep trash compactors locked. They're also not allowed to be used unless the operator is being supervised by a trained manager or other trained personnel. The company will also now be working to better its hazard communication training and will be ensuring that safety procedures are more effective.
Wal-Mart spokesman Randy Hargrove said the company immediately addressed the problems as soon as it was made aware of them.
A summary of this agreement will be posted in each and every one of the Wal-Mart stores affected.
And all of this stemmed from two separate inspections carried out at the company's Supercenter in Rochester, New York back in August of 2011.
According to USA TODAY, the retailer has agreed to pay close to $200,000 in fines over safety violations that were found during inspections at a Rochester, N.Y., area Supercenter. The fine was almost half of the $365,500 initially proposed by OSHA officials.
Wal-Mart's website states, "Conducting our business in compliance with all health and safety laws is crucial to protecting each other from harm." While that may not have been their top concern when the initial inspections were conducts, you can be sure that employers will be working harder this time around, to save the time and headache of an accident, injury, citation and even a significant fine.
The agreement covers 2,857 stores in the 28 states that follow OSHA recommendations.
Wal-Mart, which is the largest private employer in the world, has been cited in more than 100 OSHA reports of health and safety violations over the last five years.
Shares of Wal-Mart Stores Inc. dropped 3 cents to finish at $77.37 on Wednesday.

If you are injured on the job in Massachusetts, call Jeffrey Glassman Injury Lawyers for a free and confidential consultation to discuss your workers' compensation claim– (617) 777-7777.
More Blog Entries:
App Aims to Halt Fall Accidents in Boston and Elsewhere, Massachusetts Workers Compensation Lawyers Blog, August 10, 2013
Massachusetts Trucker Fired for Being Too Safe?, Massachusetts Workers Compensation Lawyers Blog, August 6, 2013