In a follow-up to the recent news about a crane operator who suffered severe injuries in a Boston on-the-job accident, it has now been reported by the Boston Herald that this worker has died from his injuries.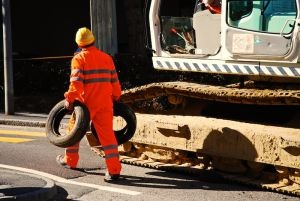 The investigation has revealed that workers were attempting to disable the crane when the victim was still on it.  There is still an ongoing investigation into the cause of this Boston workplace accident, and there are a great number of questions about what actually happened in that Boston construction accident. The reason for the confusion is that it was originally reported that he had fallen from the crane. However, now officials are saying he was on the ground at time of this deadly Boston workplace accident, and the injuries suffered were not the result of a fall.  While the police have said they are currently classifying it as an accident, they will not provide any other information into what caused this worker's death.
The United States Occupational Safety and Health Administration (OSHA) is leading the investigation, as they do in the case of any fatal workplace accident or other type of serious industrial accident.   The reason OSHA conducts an investigation is to determine if any labor laws or worker safety regulations were not being followed at the time of the fatal workplace accident, and if any safety violations resulted in the worker's death.
If it is determined there were safety violations related to the accident, or even ones not related to the accident, OSHA can issue a report of alleged violations, and then the contractor has the option of accepting the allegations and paying a fine or taking other corrective actions, or appealing the decision and requesting a hearing or even trial on the violations. However, in the vast majority of cases, when serious violations are alleged, the fines can be quite high, so typically a contractor will accept the report and negotiate a lesser settlement amount with OSHA. It should be noted that, in this case, there has been no finding of any violations as of this time.
Another thing to keep in mind, and something you can discuss with your experienced Boston workers' compensation lawyer is that in the Commonwealth of Massachusetts, it is not necessary to prove any fault on behalf of the employer and it is not even helpful in the vast majority of cases to do so.  The reason it is not necessary is because in the Commonwealth, we have a no-fault system for workers' compensation matters.
This means that in order to recover workers' compensation benefits in Boston, it is only necessary to establish that the victim is an employee within the meaning of the statute and that the employee was injured while on the job or suffered a work-related illness.  However, it should be noted that while this sounds like it would be easy enough to do, your employer, or more likely, your employer's workers compensation insurance company, may deny your valid claim, so you may need someone on your side fighting for your rights to a full and appropriate workers' compensation benefits award.
If you or someone you love has been injured a Boston work accident, call for a free and confidential appointment at (617) 777-7777.
Additional Resources:
Construction worker dies in crane accident, September 4, 2016, By Antonio Planas, Boston Herald
More Blog Entries:
OSHA's New Injury Reporting Rule and Employee Drug Testing, July 14, 2016, Boston Workers' Compensation Lawyer Blog